Quick Links to Best Prices Price History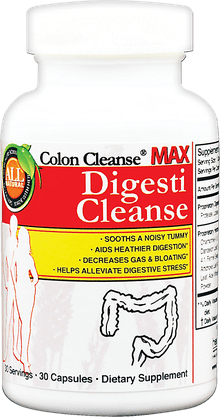 Health Plus Digesti Cleanse
Colon Cleanse MAX DIGESTI CLEANSEA grumbling, noisy tummy is not only embarrassing, it's uncomfortable. Often the first signs of stress are stomach griping cramps, indigestion and gas/bloating. Digestive enzymes have been shown to ease and streamline the digestive process. Cooked and processed foods usually lack the enzymes that help your system do its job. Our proprietary digestive enzyme blend is formulated to promote healthier and normal digestion.* When digestive enzymes are combined with our best-quality herbs, the result is not only a quieter, more soothed stomach, but a healthier colon too.
Soothing and nourishing herbs assist in cleansing and detoxing your digestive tract.*
AIDS HEALTHIER DIGESTION*
DECREASES GAS & BLOATING*
For better results, include COLON CLEANSE MAX: SUPER FIBER BLEND and PROBIOTIC FIBER to your cleansing regimen.