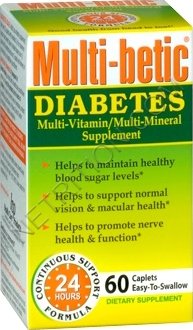 Health Care Products Multi-betic Diabetes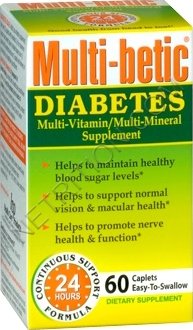 Health Care Products Multi-betic Diabetes
Health Care Products Multi-Betic Description
Advanced Diabetic Formula w/ Alpha Lipoic Acid, Lutein & Lycopene.
Good Health -- From Head to Toe! Health Care Products Multi-betic's new formula provides you with an exclusive combination of vitamins, minerals, and other essential supplements. It helps maintain the healthy structure and function of your heart, arteries, veins, and capillaries; your brain, spinal column, and peripheral nerves; your skin, bones, muscles, and connective tissue; your organs of sight, hearing, and taste; your kidneys, liver, pancreas, and digestive system; your DNA, cell membranes, and intercellular communication.

Only Multi-betic offers you this unique combination of super supplements!

Alpha-lipoic acid: A biological antioxidant. Increases the efficacy of other antioxidants such as vitamins C and E. Nourishes your nervous system. Enhances energy production. Supports cardiovascular circulatory system.

Lutein: An optical antioxidant, present in the macula of the retina and in the crystalline lens of the eye. Helps maintain the structural integrity of the macula and the lens.

Lycopene: Has the highest antioxidant activity of all the carotenoids. May inhibit the oxidation of DNA, stimulate communication between cells, and support lung and prostate structure and function.

Natural Vitamin E: Proven to be superior to the synthetic vitamin for its health-giving antioxidant activity.


Helps maintain a healthy blood sugar level
Provides superior antioxidant protection
Promotes healthy nerve function
Directions
As a dietary supplement for adults, take one (1) tablet with breakfast and one with dinner. Keep bottle tightly closed. Store in a cool, dry place at controlled room temperature 15°-30°C (59°-86°F).
Free Of Sugar, sugar alcohols, artificial colors, preservatives, wheat, corn, egg, fish, milk, barley, gluten, yeast.