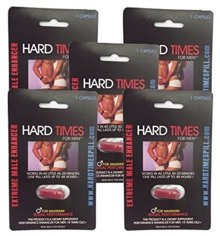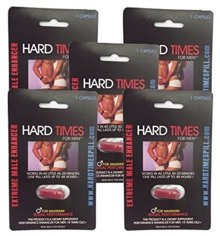 HARD TIMES is the all-natural extreme erection
& performance enhancer that works in as little as 20 minutes and lasts up to 48+ hours.
Each Hard Times capsule contains the perfect balance
of natural herbals to provide a safe yet powerful supplement that works quickly to stimulate libido and provide a healthier blood-flow to the penis which creates a stronger, firmer and longer lasting erection.
Gentlemen, welcome to HARD TIMES!Q.
I can easily get an erection but when I try to have sex it only lasts for less than a minute before I ejaculate. This is very embarrassing, will Hard Times for Men fix this?
A.
As you probably already know, you suffer from a common problem called "premature ejaculation" or "PE". PE is a disorder caused by any number of reasons depending on who you ask, however it is usually a result of an overstimulated mind. This can be caused by inexperience, excessive masturbation, or any number of other situations. The answer is Yes, Hard Times will increase your intercourse time to a longer level however it will also allow you to become erect again almost instantly, thus enabling you to satisfy your partner. Many men with PE were able to "train" themselves to function better and to a point where they could make love for an extended period without climaxing even without supplements. Please note that you must be over the legal age 18+ to use Hard Times.
Q.
I have erectile dysfunction because of diabetes. Can I safely take Hard Times fo Men as a diabetic.
A.
Many diabetics take Hard Times to once again enjoy sex. Hard Times is a safe and effective alternative to prescription drug ED medications. You should always consult with your physician before taking any supplements and to make sure that you are healthy enough to have sex.
Q.
Can I consume alcohol before taking Hard Times for Men?
A.
While we do not promote the use of alcohol by anyone, one of the many benefits of Hard Times is that it will work even if you take alcohol. Everyone knows that sexual intercourse is usually preceded by social intercourse, which commonly results in consumption of alcohol. We are happy to say that this will not inhibit your sexual endeavors.
Q.
The package says that Hard Times for Men works in as little as 20 minutes and lasts 48 hours+, does this mean that I will have an erection the whole time?
A.
No. Depending on the individual, you should start to feel the effects of the Hard Times pill in 20 to 40 minutes. This doesn't mean that you will encounter an immediate erection when 20 minutes has passed however your arousal level and libido will be greatly increased. To put it in layman's terms (sorry for the pun), the effect is similar to putting bullets in a gun. Your gun is loaded in case you need to use it, but you are the one who decides when to "cock it", (damn another pun). Yes, you will notice an increased desire to have sex, thus you should not take the pill unless you know this will happen. When your sexual encounter begins, you should notice a longer and harder erection. Your stamina will be greater and your intercourse will last longer. You should experience a greater climax. Whereas normally after ejaculation you would be "finished" for the the night, you will have the ability to obtain a new erection immediately. The 48 hour lasting period is the normal time that users experienced increased libido and increased erectile function. Actual time will vary by individual.
Q.
The package says not to exceed 1 capsule in 24 hours. What happens if I take more than one Hard Times for Men?
A.
We strongly recommend that you do not exceed one capsule in a 24 hour period.
Q.
I have tried erection pills before and nothing happened, will Hard Times for Men work for me?
A.
Hard Times for Men is not a miracle cure and we do not promote it as such. It is a dietary supplement of natural ingredients that has been tried, tested and proven to provide great results. If you have taken proven ED products in the past without results, and you haven't been able to obtain an erection in a while, Hard Times for Men probably won't be able to help you either, sorry.
Q.
Are all herbal male supplements the same? There are many different brands on the market.
A.
Absolutely not. While there may be other premium pills on the market that do provide results, many provide the same results as a sugar pill. This means that any positive result you encounter was created by your mind and not the pill. Hard Times for Men is a premium blend of proprietary herbal ingredients that work safely and effectively. Therefore it carries a premium price. The old saying "You get what you pay for" holds very true, even with erections.
Ingredients:

FLOS CARYOPHYLLI-
Warms the middle jiao, restores Qi. Strengthens Yang.

RHIZOMA CURCULIGIMIS-
Reinforces the Yang in Shen to treat impotence, limpness of the limbs, arthritis of the lumbar and knee joints, and to strengthen tendons and bones.

SEMEN ALLII TUBEROSI-
Strengthens Yang and tones the liver and kidneys. Preserves the Essence. This supplement is collected when the fruit is ripe, dried and seeds removed by lab processing.
HERBA EPIMEDII-
Due to its Qi-boosting and spirit quieting effects, Herba Epimedii is traditionally used to relieve stress and fatigue by icreasing the flow of blood. Additionally, Herba Epimedii leaf extracts have long been used as an aphrodisiac.
RHIXOMA POLYGONATI-
Nourishes yin and lungs. Strengthens middle-jiao and benefits vital energy. Supplements essence and enriches blood, increasing coronary flow and myocardial contractility.
Supplement Facts:
Serving Size: 1 capsule
Servings Per Container: 1
Amount per serving
Flos caryophylli 50mg
Rhizoma curculigimis 50mg
Semen allii tuberosi 105mg
Herba epimedii 150mg
Rhixoma polygonati 95mg
Directions: Take one (1) capsule 30 minutes prior to sexual activity. HARD TIMES begins working in as little as 20 minutes and increases erection harness and male performance and stamina.
WARNING: Do not exceed 1 capsule in a 24-hour period. Do not use this product if you take medications or have any medical conditions. You should consult your physician before using this or any dietary supplement if you have a history of heart disease, high blood pressure, seizures, stroke, cancer, liver failure, severe headaches, allergies or any other condition.
Note: Manufacturers continually change product specifications. While we try our best to keep product descriptions up to date, they do not necessarily reflect the latest information available from the manufacturer. We are not responsible for incorrect or outdated product descriptions and/or images.

These statements have not been evaluated by the Food and Drug Administration. This product is not intended to diagnose, treat, cure, or prevent any disease.