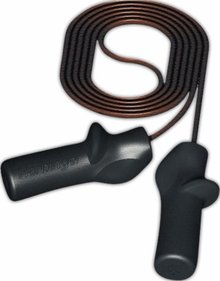 Harbinger Trigger Handle Leather Rope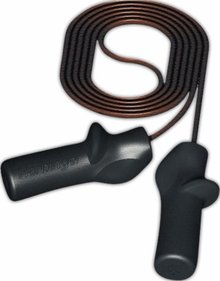 Harbinger Trigger Handle Leather Rope
Ergonimically designed "Trigger Grip" handles maximize control while providing the maximum in comfort during training.
Duragrade leather rope provides the ultimate in durability and abrasion resistance while giving you the most consistent swing motion.
Steel bearings provide a smooth, consistent swing motion and are highly durable.
9ft. length that can be shortened.
To determine the proper length of the rope you should be jumping with, loop and hold down the center of the rope beneath your left foot, hold the handles in your left hand. When you completely straighten the rope line upward, the handles should be level with the top of your armpit.
To adjust the length of your rope, remove the cap from one of the handles of the jump rope, push the rope up through the handle, you will find an unused crimping clamp, figure out where you need to adjust your rope, re-crimp the rope be careful you can only do this once.