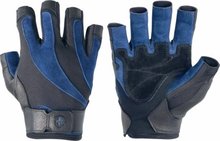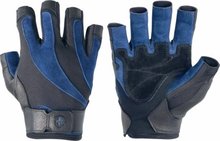 Support. Stability. Power.
Since 1988, Harbinger has been the leader in weightlifting gloves. Founder Dave McCrane still designs each Harbinger glove. In 1999, Dave sketched a glove with "living hinges" along the natural contours and creases in the palm and fingers. This design reduces hand fatigue because the glove moves with - and not against - the hand. In past, calluses and hand fatigue decrease one's ability to train, and standard weightlifting gloves add bulk that stresses calluses and interferes with grip. Dave realized the potential for pulling exercises like dead lifts and pull downs, and the BioFlex Glove was born. So over the last decade, we refined the BioFlex design to offer protection, flexibility and comfort.
Today, BioFlex is Harbinger's patent-pending "moving palm" that mimics the hand's natural motion. A base layer of reverse grain leather protects the hand. In the middle is Lycra, strategically sewn to "float" over the leather, moving up-and-down and side-to-side. On top, Harbinger's exclusive SpiderGrip leather grips for maximum power. Dual Closure System customizes fit and tensions palm to eliminate excess bulk.
Features Include:
All Leather, No Foam
Precurved extended finger length
Patent-pending BioFlex layered stretch design mimics the hands natural motion
Exclusive SpiderGrip leather
Close Contact palm maximizes feel on bar
Dual Closure System customizes fit and tensions palm to eliminate excess bulk
Machine wash & dry leather
2 U.S. & International Patents Pending
View Size Chart