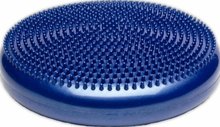 Harbinger Balance Trainer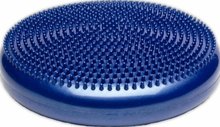 Harbinger Balance Trainer
The Harbinger Balance trainer is perfect for enhancing core muscle strength and developing, by isolating, specific muscle groups. It´s highly versatile - use standing, sitting, kneeling, laying down and in tandem with exercise equipment such as balls, resistance cables or two at a time. At the same time you enhance balance and posture. Many exercises are greatly improved with the highly versatile Balance trainer. The disk is 13" in diameter, 3" in height and can withstand 500 lbs of pressure.
Features:
Made of soft pliable PVC, it can be re-inflated using a standard bicycle pump and pump adapter.
The Balance Trainer is filled to specification. Adjust the air pressure using a standard ball pump with needle adaptor.