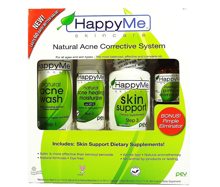 Happy Me Skincare Natural Acne Corrective System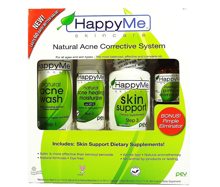 Happy Me Skincare Natural Acne Corrective System
gentle, yet effective formulas leave you with a smooth, clear complexion without the use of harsh chemicals. Using the most effective elements from Mother Earth along with the most advanced scientific technology, Happy Me offers the most complete acne corrective system, balancing your skin from the inside out and healing blemishes naturally.

This Kit Contains the Following Effective Natural Remedies:
Natural Acne WashContains 3 powerful anti-oxidants from the Brazilian rain forest; Organic acai, copaiba and andiroba extracts to balance oil production. Salicylic and lactic acids will decongest pores and gently exfoliate skin. Also includes the anti-microbial olive leaf extract to help clear problem areas and eliminate bacteria on the skin to control future breakouts.
Natural Acne Healing MoisturizerWith SPF 15 for all day protection. Formulated with lavender to purify and clam and bergamot oil to heal and even skin tone. Natural willow bark extract provides astringent properties to maintain a clear complexion and healthy skin 24/7. For external use only. Avoid eye contact. Use product as directed. Do not use on open lesions. Discontinue and consult a doctor if rash or irritation occurs. Keep out of reach of children. In case of accidental ingestion, seek medical attention immediately.
* These statements have not been evaluated by the Food and Drug Administration. This product is not intended to diagnose, treat, cure, or prevent any disease.