Warning: This product is not currently available at any store.
Click the button above and PricePlow will email you when the first store has it in stock!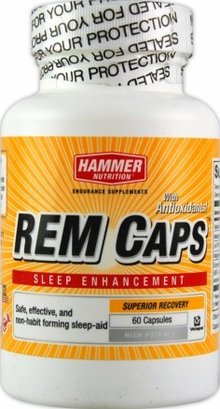 Hammer Nutrition REM Caps
In today's stressful world, it's oftentimes difficult
to obtain adequate sleep. Athletes engaged in hard training especially need the benefits of sound sleep to allow their bodies to recover. Donâ€t let an insufficient amount of quality sleep compromise your health and sabotage everything you've worked so hard to achieve in your training. REM Caps' nutrient combination allows you to reap the health and performance benefits of a more sound, restful, and productive sleep.* If you're looking for a safe, effective sleep aid, look no further, just add REM Caps to your next order.*
What's In REM CAPS?
Valerian Root Extract - Valerian is beneficial for maintaining healthy circulation and supporting reduced muscle cramps.*
Melatonin - Melatonin is a hormone that is naturally produced and secreted by the pineal gland, a tiny organ in the brain. Melatonin is responsible for regulating the biological rhythms in humans and is an effective aid in occasional sleeplessness.*
5-HTP (5-Hydroxy tryptophan) - 5-HTP is isolated from the seed of a plant called Griffonia simplicifolia and is a natural precursor of the hormone serotonin that, along with melatonin and valerian, helps to reduce the occurrence of occasional sleeplessness.*
Magnesium (as Amino Acid Chelate) - Of the dozens and dozens of roles magnesium plays in the body, one of the primary benefits for aiding sleep is that it helps the muscles to relax.*
Enzyme Enhancement System - (proprietary blend of protease, amylase, cellulase, lipase, phytase) The aging process can deplete/diminish the amounts of digestive enzymes the body produces. Adding enzymes to products works with the body, replenishing what it no longer can provide, and help a person absorb and assimilate the optimal amount.*