Quick Links to Best Prices Price History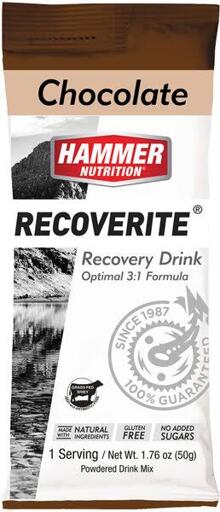 Hammer Nutrition Recoverite
Athletic performance improvement depends on
a program of exercise to stimulate muscular and cardiovascular adaptation followed by a recovery period in which the body rebuilds itself slightly more fit than before. Thus, the real gain of exercise occurs during recovery, but only in the presence of adequate rest and optimal nutritional support. Carbohydrate and protein replenishment, as soon as possible upon completion of the workout, helps you to get the very most out of every minute you've put into training. That's where Recoverite comes in, providing ideal nutritional support to ensure you obtain the optimum value from your workouts and complete recovery after each training session and race.*
Recoverite supplies carbohydrates and protein in an ideal 3:1 ratio for superior glycogen synthesis and muscle tissue rebuilding, the two main components of recovery.* For carbohydrate, Recoverite contains only maltodextrin, a complex carbohydrate with a high glycemic index, to ensure rapid metabolism.* Unlike most recovery products that contain simple sugars, maltodextrin provides a large volume of easily digested and rapidly assimilated carbohydrate, vital for reducing stomach distress and promoting full, efficient restoration of muscle glycogen.*
Regarding protein, Recoverite contains only whey protein isolate, which is virtually fat and lactose free, and yields the highest percentage of protein. For rebuilding lean muscle tissue and immune system support, whey protein isolate has no peer; it's simply the purest form of whey protein available. In addition, each serving of Recoverite also contains a potent, recovery-boosting three grams of l-glutamine.
Recoverite supplies other recovery-supporting nutrients such as Chromemate™ brand chromium polynicotinate (for optimizing muscle glycogen synthesis) and l-carnosine, a powerful antioxidant nutrient.* Recoverite also contains a full-spectrum electrolyte profile, which helps replenish depleted essential minerals.*
What Recoverite does not contain are inconsequential amounts of vitamins and minerals, commonly found in other formulas. They look good on a label, but have little physiological value. Vitamins and minerals are indeed important in recovery, but in amounts best fulfilled from Premium Insurance Caps, a potent, complete vitamin/mineral supplement. Recoverite is also completely free of any artificial flavorings and colorings, added sweeteners, or anything else not directly related to the recovery process.
How well you recover today will largely determine your performance tomorrow. When you put as much effort into the recovery process as you do for active training, you're way ahead of the game and you will no doubt enjoy improved performance. Along with adequate rest, it's vitally important to refuel your body as soon as possible after every training session and race. Using Recoverite, you can be assured that you're giving your body ideally what it needs.* Recoverite is the right product with the right formula to provide your body with the right amounts of the right nutrients, ensuring complete recovery from all your workouts and races.*