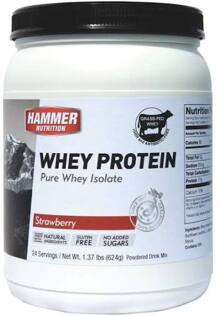 Hammer Nutrition Hammer Whey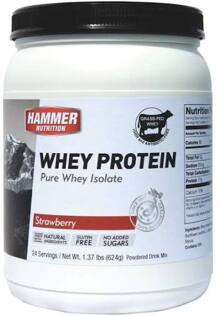 Hammer Nutrition Hammer Whey
Hammer Whey is our standard for promoting recovery.*
For the rebuilding of lean muscle tissue and optimal immune system functioning between workouts and races, whey protein has no peer.* It is the most bioavailable form of protein and has the highest percentage of essential amino acids, the protein building blocks that your body does not manufacture and must be obtained from dietary sources. Moreover, 25% of the essential amino acid component comes from the three most important amino acids for muscle tissue repair, the branched-chain amino acids (BCAAs) leucine, isoleucine, and valine.
Each scoop of Hammer Whey also contains a huge six grams of glutamine, providing even more muscle rebuilding and immune system benefits.* Hammer Whey is also rich in two other highly beneficial amino acids, methionine and cysteine. These two nutrients stimulate the natural production of glutathione, one of the body's most powerful antioxidants.* Endurance exercise increases free-radical production, so endurance athletes need extra antioxidant protection. Glutathione also supports immune system and liver functions.*
Short four-amino acid chains known as quadripeptides constitute another key component of whey protein.
One more point about whey protein: for a supplement, make sure you use whey protein isolate, not whey protein concentrate. Whey protein isolate is virtually lactose and fat free; many lactose-intolerant people can still use whey protein isolate because it contains only a miniscule amount of lactose. Also, whey isolate checks in at a sturdy 90-97% protein by volume, whereas whey concentrate runs only 70-80% protein by weight. Simply put, whey protein isolate is a purer protein, and the best protein you can put into your body after a hard workout, which is why Hammer Whey is comprised of whey protein isolates only.*
Key Benefits...
Promotes recovery*
Superb immune system support*
Preservation of lean muscle tissue*
Less soreness after workouts and the following day*
How well you perform tomorrow depends on how well you recover today. It's during the recovery process that your body grows stronger and more fit. Exercise breaks down muscle tissue, depletes energy stores, and stresses your immune system. Recovery builds these back up again--if you have adequate nutrient intake and a sensible exercise regime. Athletic improvement occurs during the rest and recovery phase, when your body responds to the stress of training. Smart athletes follow the formula for success: recover as purposely as you train. Hammer Whey is a key component for optimal recovery.*