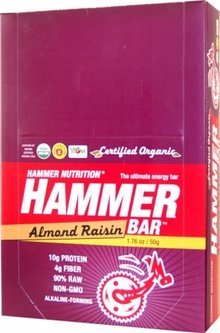 Hammer Nutrition Hammer Bar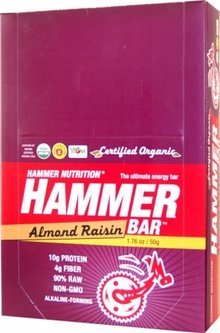 Hammer Nutrition Hammer Bar
The Hammer Bar makes an ideal energy bar, but don't
let its shape fool you, it's so much more than a mere energy bar!* Eating a Hammer Bar for breakfast, lunch, or dinner provides your body with some of the highest quality food you can consume, supplying complex carbohydrates, high quality vegetable protein, healthy fats (no trans fatty acids!), nature's own phyto-nutrients, and enzymes. Whether using the Hammer Bar to help fuel your long distance workouts and races or as a meal replacement, you can be assured that you're giving your body the ideal nutrition.* If you want an energy bar that tastes great, is easy to digest and is made from wholesome ingredients, then our new Hammer Bar is just what you've been waiting for.* Hammer Bar is loaded with healthy, non GMO, energy-producing organic ingredients with no added refined sugars. Plus it carries USDA organic, non-dairy kosher and vegan (Almond Raisin) certifications.
The tasty Hammer Bars are ideal as a pre-race meal, post workout recovery food or healthy snack anytime.* They can also be used to complement your liquid fueling regimen for extended exercise periods.* Try a sample of each flavor, we guarantee Hammer Bar will be your new favorite. The Hammer Bar contains only healthy fats (no trans fatty acids) and is an excellent source of phytosterols and sterolins, all of which have multiple health benefits.* It contains 70%-90% raw, non GMO, 100% vegetarian, Gluten-Free, non dairy organic Belgian Dark Chocolate (Chocolate Chip flavor). It's rich in phyto-nutrients and enzymes, alkalizing protein, healthy carbs, high protein, high in essential fatty acids, cold processed with delicious taste.
Hammer Bar Highlights
Great taste, moist texture
Easy to digest, gluten-free*
No refined sugars, artificial ingredients or preservatives
High in alkalizing protein
Can help maintain cardiovascular health, immunity, mental clarity, and hormone balance*
Why Get Hammer Bars?
Alkalizing Protein - From whole food sources, alkalizing protein is crucial for reducing the acidity in the body that occurs from sustained energy output.* This translates into potentially greater endurance, reduced muscle soreness, and faster recovery.*
Healthy Carbohydrates - A look at the list of ingredients shows only healthy carbohydrate sources, no refined sugar! The Hammer Bar provides your body with high quality carbohydrates for consistent, reliable, and long-lasting energy.*
Healthy Fats - Also called Essential Fatty Acids (EFAs), these are important for enhanced endurance, cardiovascular health, immunity, mental clarity, and hormone balance.* Rich in ultra-healthy EFAs, phytosterols, and sterolins, the Hammer Bar is a deliciously easy way to supply your body with these all-important nutrients.
Phyto-nutrients - For supporting overall health and immunity there's may be nothing better than Nature's superfoods.* The Hammer Bar is packed with a variety of them, including sprouted flax and quinoa, Hawaiian spirulina, and wheat and barley grass juice...all organic, of course.
Enzymes - The Hammer Bar is cold processed-produced, which preserves the naturally occurring enzymes, vital for aiding in the digestion and utilization of the nutrients at a cellular level.*
Taste - Whoever said healthy food doesn't taste great never tried the Hammer Bar! The taste and texture of the Hammer Bar will pleasantly surprise you. They are delicious!