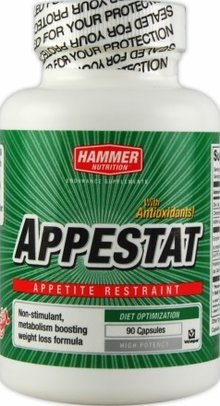 Hammer Nutrition Appestat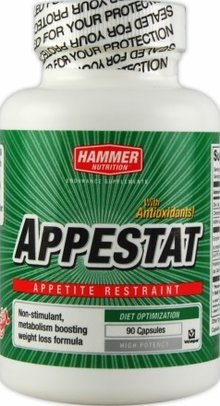 Hammer Nutrition Appestat
We've got lots of grizzlies here in northwest Montana,
and in the off-season they set their activity level at "hibernate." We know you don't cut back your training that much, but you do cut back, and you stay awake all winter eating. Come next season, you look like you are ready to hibernate. If that's the case, then you need Appestat, which helps regulate appetite during the off-season.* Stimulant-free Appestat safely regulates appetite and promotes carbohydrate metabolism, thereby potentially helping to decrease body fat accumulation and weight gain without the use of potentially harmful stimulants.* When you start off next season already at ideal weight, you'll be glad you invested a few dollars in Appestat.*
What Do These Nutrients Do?
5-Hydroxytryptophan (5-HTP), is a plant-based precursor of serotonin. In addition to potentially supporting the quality of sleep, 5-HTP aids in reducing sugar cravings.*
Zinc (we use the extremely bioavailable Monomethionine form) is an essential part of approximately 300 different bodily function including carbohydrate metabolism.* Low zinc levels, common in high carbohydrate diets, can also reduce the athlete's ability to utilize oxygen and generate energy during exercise.
Iodine is needed for the synthesis of one of the thyroid hormones known as thyroxin that is involved in regulating metabolic rate.*
Chromium is a hormone-like compound, critically involved in insulin production.* It is an essential nutrient for athletes and for weight loss as it is necessary for energy production and for the synthesis of glucose, fatty acids, and amino acids.* While there are a few forms of this mineral available to the consumer, the polynicotinate form is superior, considered to be 300 times more biologically active than the other forms currently available, referring to the absorption rates of the various forms of chromium.*
Hydroxycitric Acid (HCA) may just be one of Nature's most remarkable weight loss nutrients.* This active ingredient of the Garcinia Cambogia fruit safely reduces the activity of an enzyme called citrate lyase, which is used in the conversion of carbohydrates into fat.* It also gently regulates appetite and may assist in reducing food intake.*