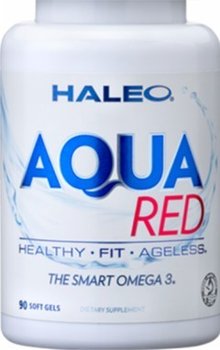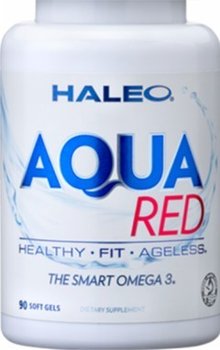 The Smart Omega-3
Aqua Red is a precise blend of two of nature's best Omega-3 EPA/DHA fatty acid sources - EKO Krill Oil from Antarctic Krill and Meg-3 Fish Oil, sourced from pristine cold waters. This elegant composition delivers the Omega-3 fatty acids in their desired phospholipid form for optimal absorption and utilization. More than just Omega-3's, each soft gel is packed with naturally occurring Astaxanthin - a powerful antioxidant - that gives Aqua Red its intense red color and powerful protection from cell damaging free radicals.*
EKO Eco Krill Oil
Eco Krill Oil offers a significant source of unique phospholipids, antioxidants and Omega-3 EPA and DHA. EKO 100% pure Krill Oil sourced from the Antarctic Ocean, is free of potentially harmful levels of mercury, heavy metals, PCBs & dioxins. Krill are small shrimp-like crustaceans at the base of a complex food chain. 85 species span the globe's oceans with a total biomass of approximately 600 million tons, making them the largest animal biomass in the world. They provide an important food source for whales, seals, penguins, albatrosses, and many other birds. Today krill are also recognized as an emerging and potent source of marine Omega-3 Fatty Acids that offer multiple health benefits. Phospholipids - known as the gate keepers of human cells - make up every cell membrane in the human body and help protect and keep our cells healthy. Since the EPA and DHA in Krill are attached to phospholipids they are 2.5 times more bioavailable for use by cells than conventional fish oils. Krill Oil contains antioxidants vitamins A and E, plus astaxanthin and canthaxanthin.*
Astaxanthin is a natural carotenoid-type of antioxidant that is even more powerful than beta-carotene, alpha-tocopherol, lycopene and lutein and it is what gives Krill its red color.*
Meg-3 Omega-3 Fatty Acids
Meg-3 is the most trusted source of Omega-3 EPA/DHA from fish oil - without the fishy taste or smell. Meg-3 is purified for safety, concentrated for potency and naturally sourced from clean, Omega-3 rich ocean fish. Aqua Red uses Meg-3 concentrated for a minimum of 64% total Omega-3 FA's per serving providing a concentrated source of EPA/DHA for health benefits without the need to take excessive amounts of large soft gels.
Omega-3 fatty acids are essential fatty acids (EFAs) that have a wide variety of positive effects on human health. Our bodies do not produce Omega-3 fatty acids and so they must be obtained through our diet, making them essential for optimal health. Among these benefits are improved cardiovascular health (heart function), pain free joints, reduced inflammation, improved brain function, skin health, and much more. Omega-3 fatty acids are a trio of polyunsaturated fatty acids - PUFAS - that include alpha-linolenic acid (ALA), eicosapentaenoic acid (EPA) and docosahexaenoic acid (DHA).*
Omega-3 fatty acids are found mainly in marine animals, algae and some plant sources. It is accurate to state that most individuals do not consume enough Omega-3 fatty acids and that current dietary habits and food quality may increase ones risk for health problems. More than 20,000 scientific studies show the benefits of Omega-3 on human health at every stage of life - from birth to geriatric.
Together the aquatic tandem of EKO and Meg-3 combine to produce The Smart Omega-3 choice in your pursuits for a Healthy, Fit and Ageless body.
Benefits of Taking Aqua Red
Longevity/Overall Health
The Omega-3's in Aqua Red assist in the transport of fat-soluble vitamins, increasing the levels of vitamin E, known to have potent antioxidant effects. Unlike other fatty acids, krill oil is relatively resistant to oxidative degradation, giving krill oil incredible stability and antioxidant capacity. EKO contains the powerful antioxidant astaxanthin which has demonstrated the ability to reduce the effects of aging by ridding the body of "free radicals" that have damaging effects on cells. EFA supplements have been shown to decrease the need for pain medications in females with severe premenstrual syndrome (PMS) and dysmenorrhea, demonstrating the potent anti-inflammatory effects. Inflammation is responsible for a vast array of chronic ailments. Use Aqua Red to enhance your body's natural antioxidant and anti-inflammatory functions for a longer and healthier life.*
Cardiovascular Health
Omega-3 fatty acids can help reduce the incidence of heart attacks and strokes. Studies have shown that this combination of ingredients can significantly lower cholesterol and triglyceride levels when compared to placebo. Krill oil is able to augment the cardio-protective effects of fish oils by the lipophilic properties of the Omega-3 fatty acids to phospholipids. In addition, krill oil contains astaxanthin, an antioxidant, producing greater cardio-protective effects. Let Aqua Red help boost your cardiovascular health.*
Weight Loss
Weight loss is simple in theory but difficult in practice. EFAs have been shown to increase energy production and boost metabolism, which in turn increase the body's ability to burn fat and lose weight. The human body is intuitive; if it senses the lack of fat in our diet, our body will naturally hold onto it. The components of Aqua Red provide the EFAs that allow our body to burn off the fat stores. Omega-3 EFAs, found in Aqua Red, have been shown to assist in the oxygenation of tissue cells, increasing the metabolism of fat cells. Thus the cycle continues: the essential fatty acids providing more energy to exercise and to build muscles, yielding greater weight loss. Use Aqua Red as a safe and essential supplement to boost your energy and healthy weight loss.*
Joint Health
Krill oil has been shown to lower the pro-inflammatory C-reactive protein (CRP) activity in those suffering from arthritis and other disorders of chronic inflammation. Now imagine its combination with fish oils and their augmented effects against inflammation. Numerous studies have shown the synergy of these two ingredients, relieving the inflammation that causes arthritic pain. Aqua Red can support your joint health and provide you the support you need for pain free movement for everyday life and sport.*
Brain Health
There is perhaps no other organ system that relies more on fat sources than the brain. Every nerve fiber is encased in a covering of fat, providing insulation and allowing proper synapse function. Aqua Red provides the high quality fats to keep cellular mobility, assist in rapid signal conduction and improve overall brain health. Studies have linked the intake of EFAs with cognitive improvements in Alzheimers patients. EFAs are also essential in the production of an important neurotransmitter, serotonin, which plays an integral role in mood, sleep, memory and learning. Protect and nourish your brain with the powerful EPA/DHA m found in Aqua Red.*
Skin Benefits
The skin functions as a protective barrier against dehydration, maintaining cellular fluidity and electrolyte stability. Essential to healthy skin is the availability of quality fat sources in the body. The epidermal and dermal layers of the skin rely on EFAs not only for cellular mobility but also for protection against UV exposure. Furthermore, studies have shown EPAs' incredible soothing effects on common inflammatory skin disorders such as psoriasis. Clothe yourself with visibly healthier and stronger skin with Aqua Red.*