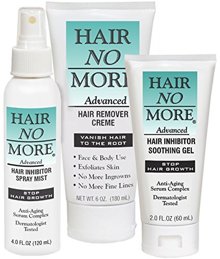 Hair No More Advanced Hair Inhibitor 2 Step System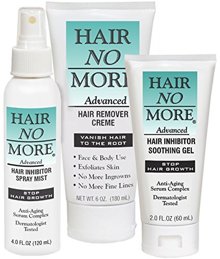 Hair No More Advanced Hair Inhibitor 2 Step System
Hair No More is a revolutionary hair growth inhibitor made
especially for bodybuilders and athletes who are always on the go! Imagine having smooth, hairless skin all over your body without having to shave or wax! Hair No More makes eliminating un-wanted body hair easy and painless. Hair No More Advanced Hair Inhibitor 2 Step System is a 100% pain-free effective 2 step process. Hair No More Advanced Hair Vanishing Creme painlessly eliminates unwanted body hair with a protective natural barrier and pro-vitamin, anti-oxidant complex, containing vitamins A and E, green tea, aloe vera and natural plant extracts. Hair is gently removed from the follicle bulb, leaving the skin baby soft and silky.
The unique blend of bioactive plant extracts found in the hair inhibitors, gel or spray, seep into the hair-free follicle reducing the hair shaft naturally at the follicle growth site. The hair becomes thinner and finer over a one to four month period. Most people report hair stops growing with ongoing maintenance. The 3-in-1 process conditions, moisturizes and protects the skin against the environment. Never shave, wax or tweeze again. Hair No More is the most effective alternative to expensive laser treatments and electrolysis. Almost everyone gets results!
Your skin will feel soft and smooth - No more embarrassing stubble!
Hair No More is three powerful formulas in one, for different areas of the body. A 4oz. Spray for larger areas, such as the back, chest, legs and arms, and a 2oz. Gel for finer applications such as the upper lip, chin and bikini line. Also available, 6oz. Hair No More vanishing creme that painlessly, safely, and effectively removes all unwanted body hair in minutes and leaves you hair-free for up to 3 weeks. Hair No More can be safely used by men and women on all areas of unwanted body hair. Hair No More has been clinically and dermatologist-tested and shown to be 100% effective and safe.