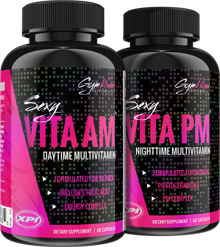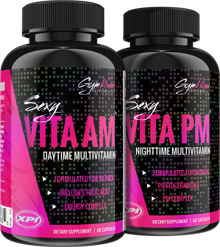 DAYTIME + NIGHTTIME MULTIVITAMINS
SPECIFICALLY DESIGNED FOR WOMEN
HAIR, SKIN, & NAILS BEAUTY COMPLEX
HIGH CALIBER, CLINICALLY DOSED INGREDIENTS
ACTIVE PERFORMANCE COMPLEX
FORTIFY YOUR FITNESS EXPERIENCE
Gym Vixen has developed a multivitamin pack geared towards a woman's fitness lifestyle that includes necessary vitamins and minerals. First, Vita AM offers the additional support needed to revitalize, reinvigorate, and replenish vital nutrients after a caloric deficit or strenuous workout. Second, Vita PM can give you the support you need, day after day, so you can wake up feeling rested, refreshed, and recovered after the previous day's workout.*
Vita AM not only contains a comprehensive list of important vitamins and minerals, but has specifically added Folic Acid and Iron to suit an athletic woman's needs. Folic Acid is especially important for women who are in their childbearing years to prevent birth defects. Iron is another important mineral to consider, and low levels have been linked to anemia, which is a condition that impairs your body's ability to transport oxygen. Iron deficiency is an especially common problem for women and athletes.[1] Also included is a Metabolic Energy Complex, with ingredients like Green Tea[2] and DMAE[3].*
Vita PM contains vitamins A, B2 (Riboflavin), C, D3, E, K, and Biotin. Minerals Calcium, Zinc, Potassium, and Boron have also been included to create an efficient nutrient packing blend. However, what really makes Vita PM unique is the addition of the Hair, Skin, & Nails Beauty Complex, and the PM Complex. The Beauty Complex is composed of Ceramide-PCD[4], Alpha Lipoic Acid, and DMAE.A good night's rest is just as vital for recovery and repair. The PM Complex consists of Valerian Root and Phosphatidylserine[5], which aids in providing quality sleep.
Want a multivitamin pack that helps you stay invigorated and boosts energy while aiding in recovery to enhance your natural beauty? Vita AM & PM are designed to support an active woman's health and promote a restful sleep so you can tackle those workouts, rebuild, and recharge.*
References [+]
References [-]
[1] McClung, James P. Iron status and the female athlete. Journal of Trace Elements in Medicine and Biology 26.2 (2012): 124-126. Retrieved on 19 Dec. 2016.
[2] Lambert, Joshua D., and Ryan J. Elias. The antioxidant and pro-oxidant activities of green tea polyphenols: a role in cancer prevention. Archives of biochemistry and biophysics 501.1 (2010): 65-72. Retrieved on 19 Dec. 2016.
[3] Haubrich, Dean R., et al. Increase in rat brain acetylcholine induced by choline or deanol. Life sciences 17.6 (1975): 975-980. Retrieved on 19 Dec. 2016.
[4] Shimoda, Hiroshi, et al. Changes in ceramides and glucosylceramides in mouse skin and human epidermal equivalents by rice-derived glucosylceramide. Journal of medicinal food 15.12 (2012): 1064-1072. Retrieved on 16 Dec. 2016.
[5] Hellhammer, J., et al. Effects of soy lecithin phosphatidic acid and phosphatidylserine complex (PAS) on the endocrine and psychological responses to mental stress. Stress 7.2 (2004): 119-126. Retrieved on 16 Dec. 2016.
* RESULTS MAY VARY