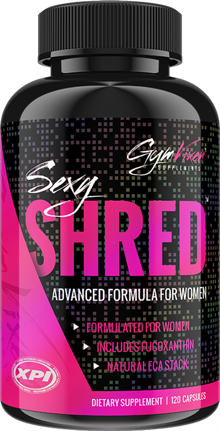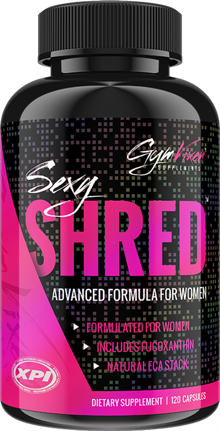 you're here to
work hard for
your body
Gym Vixen Shred is
here to help!
Formulated For Women
Includes Fucoxanthin
Natural "ECA" Stack
No Jitters – All Natural
---
100
mg
white willow bark
---
25
mg
Higenamine (Nandina Domestica)
---
15
mg
thermodiamine (98% Evodiamine)
NO CRASHES. EVER.
When you're trying to lose weight it's mostly a matter of simple math. Calories in need to be less than calories out. That's why diet and exercise are so important. You're looking to increase the calories out through diet and decrease the calories in by dieting. Gym Vixen Shred looks to give you an edge in your weight loss goals. It does this with it's two-step formula.
Step one is Gym Vixen Shred's Natural ECA Formula. ECA stands for, "Ephedrine, Caffeine and Aspirin." Gym Vixen Shred ECA is composed of caffeine anhydrous, white willow bark extract, and higenamine. Caffeine is a natural stimulant that we all know about. One thing that many don't know however is that caffeine has been shown improve reaction time while doing physical tasks[1] White Willow has been shown to fight headaches as nature's natural aspirin.[2]
Step two is Gym Vixen Shred's Thermic Energy Blend which contains five high-quality ingredients formulated to help you burn fat. One of the ingredients in the thermic energy blend is garcinia cambogia. Garcinia Cambogia has been found to reduce weight in people.[3] It also contains Theobromine which aids in raising good cholesterol.[4]
Gym Vixen Shred is not the miracle pill that will replace diet and exercise. That pill doesn't exist. But what Gym Vixen Shred can do is give you an edge in your diet and exercise. Give Gym Vixen Shred a try today and see if you don't feel the edge.
---
"I LOVE MY ABS AND MY BOOTY!"
"I needed a wake up call and I came across Gym Vixen on Facebook and made an order. After just a few weeks I've seen some major changes. My abs are coming in and my booty is really starting to pop!. I love the energy I get from ripped and the way it really helps me cut the fat. I love my abs and my booty now!"
– Kasey S.
---
"I AM MUCH MUCH HAPPIER NOW IN MY NEW BODY!"
"I decided around 2 years ago to change the way I looked and more importantly the way I felt. I had had my baby and I had gained 55 lbs during pregnancy. With all that baby weight I felt absolutely miserable. So I hit the gym and changed the way I ate. I started using Gym Vixen protein and Shred to help my progress. I couldn't be happier with the results I got."
– Jess E.
References [+]
References [-]
[1] Peacock, Amy. Martin, Frances Heritage. Carr, Andrea. Energy drink ingredients. Contribution of caffeine and taurine to performance outcomes. Appetite. Volume 64. 2013.
[2] Ehrlich, Steven D. Willow bark. Complementary and Alternative Medicine Guide. Univeristy of Maryland Medical Center. 2015.
[3] Heymsfield, SB. Allison, DB. Vasselli, JR. Pietrobelli, A. Greenfield, D. Nunez, C. Garcinia cambogia (hydroxycitric acid) as a potential antiobesity agent: a randomized controlled trial. JAMA. 1998 Nov 11;280(18):1596-600.
[4] Neufingerl, Nicole. Zebregs, Yvonne EMP. Schuring, Ewoud AH. Trautwein, Elke A. Effect of cocoa and theobromine consumption on serum HDL-cholesterol concentrations: a randomized controlled trial. American Society for Nutrition. 2013.
* RESULTS MAY VARY