Quick Links to Our Prices
How does this work and how do stores get listed? See our disclosure below to learn more. Price History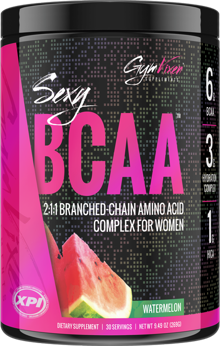 ENHANCE YOUR MUSCLE GAINS*
6 Grams of BCAA
2:1:1 Ratio
Casein and HICA
Hydration Complex
MORE THAN JUST YOUR AVERAGE BCAA SUPPLEMENT
Branched Chain Amino Acids (BCAAs) are known to stimulate protein synthesis, and can be crucial in both building and preserving muscle. The body can become catabolic during a caloric deficit, meaning muscle breakdown is more likely to occur. BCAAs Leucine, Isoleucine, and Valine promote a more anabolic (muscle building) environment. Gym Vixen BCAA is formulated with all 3 BCAAs in the optimal 2:1:1 ratio as found in muscle tissue, along with Casein, HICA, and a Hydration Complex to give you the best chance to fuel your recovery and workouts.
Leucine, Isoleucine, and Valine are the three amino acids that make up BCAAs. Supplementing with these prevents a serum decline in BCAAs, which occurs during exercise. Casein Hydrolysate and HICA are also included in the mix. Casein Hydrolysate works in synergy with the BCAAs found in Gym Vixen BCAA to ensure faster absorption and usage. HICA, or alfa-hydroxyisocaproic acid helps remove waste, and allows muscle function to be working at optimal capacity to aid in the highest recovery possible.
The Hydration Complex consists of Coconut Water and essential minerals pyridoxine hydrochloride, calcium, magnesium, potassium, and sodium. Electrolyte balance is crucial to maintain neuromuscular function, and electrolytes are often lost during physical exertion. Gym Vixen BCAA not only replenishes these electrolytes, but provides quality BCAAs, Casein and HICA to maximize your potential.
References [+]
References [-]
[1] Norton, Layne E., and Donald K. Layman. Leucine regulates translation initiation of protein synthesis in skeletal muscle after exercise.The Journal of nutrition 136.2 (2006): 533S-537S. Retrieved on 19 Dec. 2016
[2] Koopman, René, et al. Ingestion of a protein hydrolysate is accompanied by an accelerated in vivo digestion and absorption rate when compared with its intact protein. The American journal of clinical nutrition 90.1 (2009): 106-115. Retrieved on 19 Dec. 2016
[3] Mero, Antti A., et al. Effects of alfa-hydroxy-isocaproic acid on body composition, DOMS and performance in athletes.Journal of the International Society of Sports Nutrition 7.1 (2010): 1. Retrieved on 19 Dec. 2016
* RESULTS MAY VARY