Warning: This product is not currently available at any store.
Click the button above and PricePlow will email you with updates from Gym Angel.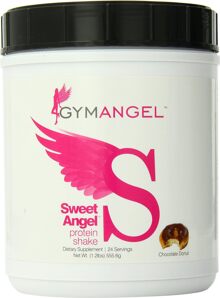 Sweet Angel Highlights
No clumps/mixes easily
95% sugar free
High % protein vs. other protein blends
Fuels your muscles
Great Taste!
Your body craves quality protein that will help it regulate your weight and keep toned. However your tongue craves delicious foods. These two needs are usually incongruent with one another. However, Sweet Angel solves the contest between what is good for you and what tastes good by offering both the highest quality protein and an amazing dessert like taste. Once you try Sweet Angel for the first time you will never go back to your old protein powder again; it's that yummy!
Sweet Angel is comprised of 6 various forms of protein that all differ in absorption time. This gives your body the ultimate infusion of protein over the course of the day to keep you in shape and looking beautiful!