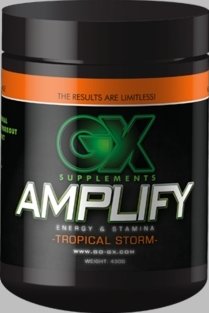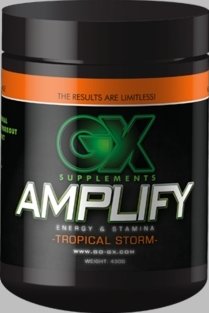 Amplify is a high-quality BCAA supplement drink designed for consumption while working out.
Once you have tried Amplify you will see it, feel it, and want it for every workout.


Amplify contains the necessary mix to enhance your workout and bring it to the next level.

Amplify contains glutamine--a non essential amino acid
that aids anabolic processes and provides cellular energy, L-Carnitine to help incinerate fat, Arginine AKG to increase cell volumization, Vitamin B for extra energy, and BCAA to prevent muscle protein breakdown during exercise and to preserve muscle stores of glycogen. It also assists in replenishing the glutamine stores that are depleted during your workout, thus allowing you to work out harder and longer. Our vitamin B energy formula gives you extreme energy to carry you through your workout, keeping you pumped and focused. Available in great tasting Tropical Storm and Strawberry Lemonade.


Benefits Include:

Increased Energy and Focus
Superior Pumps and Performance
Enhanced Cell Volumization
Faster Muscle Recovery
Supplement Facts:


Serving Size: 1 Scoop (13.9g)
Servings Per Container: 30
Amount Per Serving
Vitamin B Mix 300 mg
Thiamin (B1) 380%
Riboflavin (B2) 208%
Niacin (B3) 237%
Pantothenic Acid (B5) 635%
Pyridoxine (B6) 188%
Cobalamins (B12) 1000%
Biotin 1000%
Folic Acid 1000%
L-Valine 2000mg
L-Isoleucine 2000mg
L-Leucine 4000mg
Glutamine 3000mg
L-Carnitine 500mg
Arginine AKG 1500mg
Ingredients: Strawberry Lemonade flavor, sucralose, silicon dioxide.
Directions: Mix 1 level scoop with 12-16 oz. of water or your favorite beverage.
Warnings: Keep out of reach of children. Please consult a physician before engaging in any exercise routine or taking any supplements.
Note: Manufacturers continually change product specifications. While we try our best to keep product descriptions up to date, they do not necessarily reflect the latest information available from the manufacturer. We are not responsible for incorrect or outdated product descriptions and/or images.

These statements have not been evaluated by the Food and Drug Administration. This product is not intended to diagnose, treat, cure, or prevent any disease.