Quick Links to Best Prices Price History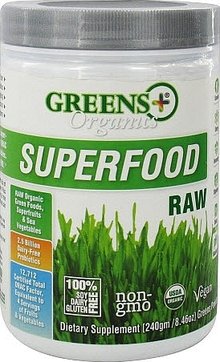 Greens Plus Organic Superfood
Organic Superfood Description from Greens Plus
ORGANIC Superfood is a Certified Organic blend of Green Foods, Superfruits, Sea Vegetables and Probiotic Cultures. One serving delivers more vitamins, minerals and antioxidants than 5 full servings of fresh fruits and vegetables while supplying every color in the Dietary Food Spectrum. Organic Superfood provides more Green Foods per serving than any product of its kind.
Supplement Facts
Serving Size: 8 grams
Servings Per Container: 30
Ingredient
Amount
% Daily Value**
Calories
30
Calories from Fat
4
Total Fat
0
Saturated Fat
0g
0
Trans Fat
0g
Cholesterol
0g
0
Sodium
14mg
Total Carbohydrate
5g
2
Dietary Fiber
1.7g
7
Sugars
1g
Protein
2g
4
Vitamin A
155IU
3
Vitamin C
12mg
20
Vitamin K
50mcg
63
Vitamin B2
58mcg
3
Vitamin B3
252mcg
1
Vitamin B9
6.6mcg
2
Vitamin B12
2.8mcg
46
Calcium
17mg
2
Iron
2.8mg
16
Vitamin B1
23mcg
2
Vitamin B5
20mcg
Vitamin B7
2mcg
2
Vitamin B6
23mcg
1
Greens Plus Superfood Blend
5280mg
-Organic Barley Grass
1000mg
-Organic Wheat Grass
900mg
-Organic Alfalfa Grass
300mg
-Organic Oat Grass
300mg
-Organic Dandelion Leaf
100mg
-Organic Stevia Lead
75mg
-Organic Red Beet Juice
30mg
Amazon Chocolate Blend
2520mg
-Organic Amazon Cacao (2500mg), Organic Peppermint Leaf (20mg)
Sea Vegetable Blend
2000mg
-Organic Spirulina
1500mg
-Organic Chlorella
440mg
-Organic Dunaliella Salina Algae
40mg
-Organic Nova Scotia Dulse
20mg
High-ORAC Superfruit Blend
500mg
-Organic AppleBoost
270mg
-Organic Acerola Berry Juice Powder
115mg
-Organic Acai Berry Juice
115mg
Dairy-free Probiotic Cultures
200mg
-L.Acidophilus, L.Casei, L.Plantarum, L.Rhamnosus, Bifidobacterium Breve and Longum
-Fructo-Oligosaccharides
** Percent Daily Value is based on a 2000 calorie diet. Your daily values may be higher or lower depending on your calorie needs.
† Daily Value not established.

This product contains Wheat Grass and is manufactured in a facility that processes soy and dairy ingredients. Made in the USA.

Ingredients:
Other Ingredients: Raw Organic Sugar cane, Chocolate Flavor Organic Stevia Extract.
Manufacturer's Directions
Simply mix 1 scoop of Organic Superfood with 8oz of cold water or your favorite beverage. Shake briskly in a Greens Plus BlenderBottle. Sip and Enjoy! Take Organic Superfood first thing in the morning as a perfect way to energize your day. Organic Superfood can be taken 3 times per day.