Quick Links to Best Prices Price History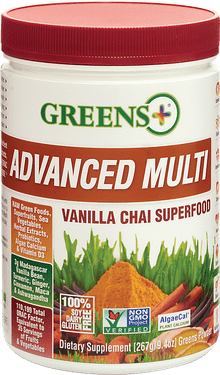 Greens PlusOverview

Greens Plus is a nice change-of-pace from having to take capsules and tablets to improve your nutrition. Greens Plus is a superfood and greens supplement powder you use to make an ultra-nutritious drink using water or fruit juices like apple or grape juice. People like the fact that Greens Plus is a natural, whole food supplement and provides so many kinds of nutrients. There's something from almost every section of the health food store in Greens Plus.
The Greens Plus formula starts with a base of non-GMO Soy Lecithin, a superfood full of brain and heart-healthy fats. Next comes a proprietary blend of just about every type of green supplement powder: organic Hawaiian spirulina, barley grass powder, wheat grass powder, Japanese chlorella and alfalfa. Then there's a multi-species and dairy-free probiotic culture. Next come energizing superfoods like Royal Jelly, Montana Bee Pollen, and Acerola Berry. Then come the standardized herbal extracts like Milk Thistle Seed, Echinacea, Siberian Eleuthero and Astragalus Root.
With superfood blends like Greens Plus, the whole is greater than the sum of the parts and the benefits are hard to attribute to any one nutrient or ingredient. People most often report improvements in energy, digestion, mental clarity and mood among other factors. Some experts recommend green foods specifically for the purpose of alkalizing body chemistry, which benefits many body systems.
Greens PlusDescriptionfromGREENS PLUS
ADVANCED MULTI is a 100% whole food multiVitamin. MultiMineral & Phyto-Nutrient delivery system or RAW green foods, superfruit, sea vegetables, herbal extracts, probiotics, algae calcium & vitamin D3 with Sambozon Acai.
Supplement Facts
Service Size: 8.9 grams
Servings Per Container: 30
Ingredient
Amount
% Daily Value**
Calories
34
Calories from Fat
8
Total Fat
0
Saturated Fat
0g
0
Trans Fat
0
Cholesterol
0g
0
Sodium
23mg
Total Carbohydrate
5g
2
Dietary Fiber
2g
8
Sugars
Protein
1.5g
3
Vitamin A
5910IU
118
Vitmain B1
6.7mg
446
VItamin B2
5.6mg
329
Vitamin B3
8mg
40
Vitamin B5
8.8mg
88
Vitamin B6
4mg
200
Vitamin B7
3mcg
1
Vitamin B9
167mcg
42
Vitamin B12
1.7mcg
28
Vitamin C
17mg
28
Vitamin D
823IU
208
Vitamin E
100IU
333
Vitamin K
60mcg
75
Calcium
291mg
29
Chloride
36mg
1
Choline
48mg
11
Chromium
40mcg
33
Copper
40mcg
2
Iodine
15mcg
10
Iron
10mg
55
Magnesium
38mg
10
Molybdenum
Phosphorus
63mg
6
Potassium
113mg
2
Sulfur
20mg
3
Zinc
110mcg
Greens Plus Superfood MultiVitamin Blend
3287mg
-Lecithin
1280mg
-Organic Wheat Grass
600mg
-Organic Barley Grass
570mg
-Organic Alfalfa Grass
300mg
-Spanish Bee Pollen
150mg
-Royal Jelly
150mg
-Organic B-Complex
100mg
-Organic Red Beet
50mg
-Natural Vitamin D3
400IU
-Natural Vitamin E
100IU
Greens Plus Sea Vegetable MultiMineral Blend
2558mg
-AlgaeCal Plant Calcium
1028mg
-Earthrise Spirulina
1000mg
-Japanese Spiulina
350mg
-Organic Fulvic Acid
120mg
-Dunalielia Salina Algae
40mg
-Organic Nova Scotia Dulse
20mg
High-ORAC Antioxidant Fruit Extracts
1590mg
-Organic Sambazon Acai Berry
800mg
-Organic AppleBoost
350mg
-Organic Wild Berries (strawberry, blueberry, blackberry, raspberry, cranberry)
150mg
-Organic Pomegranate Juice
100mg
-Camu Camu Berry
115mg
-Organic Goji Berry
45mg
-Full Spectrum Grape Seed and Skin
20mg
-European Bilberry
10mg
Standardized Herbal Extracts
200mg
-Milk Thistle Seed
60mg
-Siberian Eleuthero Root
60mg
-Astragalus Root
60mg
-Japanese Green Tea Leaf
20mg
Dairy-free Probiotic Cultures
200mg
-L.acidophilus, L.Casei, L.Plantarum, L-Rhamnosus, Bifidobacterium Breve and Longum with FOS
** Percent Daily Value is based on a 2000 calorie diet. Your daily values may be higher or lower depending on your calorie needs.
† Daily Value not established.

Ingredients:
Other ingredients: Natural Wild Berry Flavors, Malic Acid, Citric Acid, Stevia Leaf Extract
Manufacturer's Directions
Simply mix 1 scoop of Advanced Multi with 8 oz of cold water or your favorite beverage. Shake briskly in a Greens Plus BlenderBottle. Sip and Enjoy! Take Advanced Multi first thing in the morning as a perfect way to energize your day. Advanced Multi can be taken twice per day.