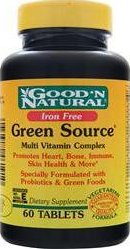 Good 'n Natural Green Source Multi Vitamin Complex - Iron Free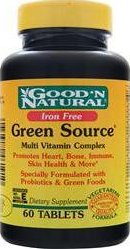 Good 'n Natural Green Source Multi Vitamin Complex - Iron Free
Green Source Multi Vitamin Complex - Iron Free Description from Good 'N Natural
Green Source Iron Free has been developed for those individuals who do not need to supplement their diet with extra Iron, but who still want the nutritional benefits provided by this carefully blended formulation. This comprehensive formula is derived from natural food concentrates, essential vitamins and minerals, enzymes, herbs, essential oils, and other natural food factors. Also provides all the naturally occurring active constituents of whole foods including lipids such as Omega-3 and Omega-6 polyunsaturates, Plant Enzymes and Plant Pigments.
Supplement Facts
Serving Size: 3 tablets
Servings Per Container: 20
Ingredient
Amount
% Daily Value**
Vitamin A (as Beta-Carotene)
5000IU
100
Vitamin C (as Ascorbic Acid)
500mg
833
Vitamin D (as Ergocalciferol)
800IU
200
Vitamin E (as d-Alpha Tocopheryl Succinate)
100IU
333
Thiamin (Vitamin B-1) (as Thiamin Mononitrate)
25mg
1667
Riboflavin (Vitamin B-2)
25mg
1471
Niacin (as Niacinamide)
25mg
125
Vitamin B-6 (as Pyridoxine Hydrochloride)
25mg
1250
Folic Acid
400mcg
100
Vitamin B-12 (as Cyanocobalamin)
250mg
4167
Biotin (as d-Biotin)
300mcg
100
Pantothenic Acid (as d-Calcium Pantothenate)
30mg
300
Calcium (as Calcium Carbonate, Dicalcium Phosphatea and d-Calcium Pantothenate)
268mg
27
Iodine (from Kelp)
150mcg
100
Magnesium (as Magnesium Oxide)
125mg
31
Zinc (as Zinc Oxide)
15mg
100
Selenium (as L-Selenomethionine)
25mcg
36
Copper (as Cupric Gluconate)
0.5mg
25
Manganese (as Manganese Gluconate)
4mg
200
Chromium (as Chromium Picolinate)
100mcg
83
Molybdenum (as Sodium Molybdate)
51mcg
68
Chloride (as Potassium Chloride)
45mg
1
Potassium (as Potassium Chloride)
50mg
1
Choline (as Choline Bitartrate)
50mg
Inositol
25mg
PABA (Para-Aminobenzoic Acid)
25mg
Boron (as Sodium Borate)
1mg
Citrus Bioflavonoids (Citrus limon)
60mg
Hesperidin Complex (Citrus spp.)
20mg
Rutin
20mg
Quercetin
20mg
DNA (Deoxyribonucleic Acid)
1mg
RNA (Ribonucleic Acid)
35mg
L-Glutathione
5mg
Lutein
10mcg
Proprietary Enzyme Blend
50mg
-Betaine Hydrochloride
-Bromelain (from Pineapple)
-Papain (Papaya enzyme)
-Amylase
-Lipase
-Cellulase
-Protease
Proprietary Probiotic Blend
25mg
-L. Bifidus
-L. Bulgaricus
-L. Acidophilus
Proprietary Omega Blend
300mg
-Flaxseed
-Sunflower oil
-Borage powder
-(Contains Omega-3 35mg and Omega-6 12mg)
Proprietary Green and Whole Food Blend
1200mg
-Whole Food Blend
--Oat bran, spirulina, apple pectin, wheat grass, chlorella, barley juice, sodium copper chlorophyll
-Proprietary Herb Blend
100mg
--Echinacea, ginger, milk thistle, cayenne, Korean ginseng, ginkgo biloba extract, goldenseal
-Proprietary Vegetable Blend
100mg
--Garlic, beet root powder , carrot powder, parsley powder, asparagus powder
--Extracts of broccoli, cabbage, brussels sprouts, cauliflower and kale
-Proprietary Fruit Blend
--Grapefruit extract, apple powder, papaya fruit powder, peach, strawberry, acai, cranberry
--Blueberry, bilberry, pomegranate extract, pineapple, orange, noni extract
-Proprietary Mushroom Blend
50mg
--Shiitake extract, maitake, reishi extract
** Percent Daily Value is based on a 2000 calorie diet. Your daily values may be higher or lower depending on your calorie needs.
† Daily Value not established.

Ingredients:
Other Ingredients: Vegetable Cellulose, Hypromellose, Silica, Vegetable Stearic Acid, Vegetable Magnesium Stearate.
Manufacturer's Directions
For adults, take three (3) tablets daily, preferably with a meal or as desired.
Manufacturer's Disclaimer
Not intended for use by pregnant or nursing women. If you are taking any medications or planning any medical procedure, consult your doctor before use. Avoid this product if you are allergic to sunflowers, ragweed or daisy-like flowers. Discontinue use and consult your doctor if any adverse reactions occur. Not intended for use by persons under the age of 18. Keep out of reach of children.