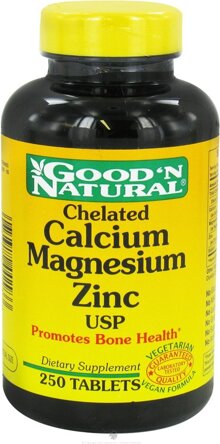 Good 'n Natural Calcium Magnesium Zinc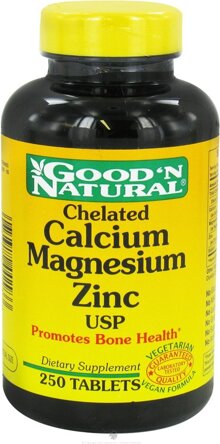 Good 'n Natural Calcium Magnesium Zinc
Chelated Cal-Mag-Zinc 100 Tablet
Chelated CalciumMagnesium Zinc Calcium is the primary mineral responsible for strong bones. The body also uses Calcium for proper muscle contraction and nerve function. Because the body cannot produce Calcium, a balanced diet, regular exercise, healthy lifestyle choices and adequate intake of Calcium can play a role in maintaining bone health. Calcium and Magnesium play essential roles in maintaining proper bone mineralization. Calcium and Magnesium are also involved in muscle contractions and nerve impulses. Zinc is essential for cell division and growth.
Suggested Use As a dietary supplement For adults, take one 1 to three 3 tablets daily, preferably with a meal. Many minerals can affect the absorption of particular medications. Do not take this product within 2 hours of taking medications. As a reminder, discuss the supplements and medications you take with your health care providers and follow their advice. - Or as directed by your healthcare professional.
Supplement Facts
Serving Size 3 Tablet Servings Per Container 33
Amount Per Serving
% Daily Value***
Total Carbohydrate Dietary Fiber Calcium as Calcium Carbonate and Calcium Gluconate 1,000 mg 1 g 100%
Magnesium as Magnesium Oxide and Magnesium Magnesium 400 mg 100%
Zinc as Zinc gluconate and Zinc Citrate 25 mg 167%
Sodium 10 mg *Daily Value Not Established
***Percent Daily Values are based on a 2,000 calorie diet
Other Ingredients Vegetable Cellulose, titnaium dioxide Color, Vegetable Magnesium Stearate.
Does Not Contain No Gluten No Yeast No Wheat No Milk No Lactose No Soy No Egg No Grapefruit No Fish No Sweetener No Sugar No Preservatives No