Quick Links to Our Prices Price History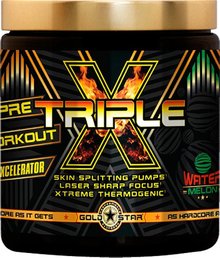 Gold Star Pro Performance currently has two products out that are centered around DMHA -- the Gold Star Infrared fat burner, and the pre-workout supplement, Triple X.
Needless to say, if you've seen our DMHA mega-post linked above, this is a stim-based pre workout, and it's quite a potent one. DMHA stands in for DMAA and delivers roughly the same effects, but with potentially less health concerns and less possibility of it getting regulated out from the industry since it's said to be found in fruit.
Gold Star Triple-X Ingredients
The ingredients listed below are in a six gram total proprietary blend. We don't currently have specific dosing information for each.
N-Acetyl-L-Tyrosine

L-Tyrosine is a mood and focus enhancer that stimulates the production of noradrenaline and dopamine. NALT is the most bioavailable form currently available. These "feel good" chemicals cause a quick improvement in energy and mood.[1,2]

Arginine Alpha Ketoglutarate

This is a common nitric oxide booster used to enhance pumps. By itself, however, it isn't a particularly impressive one, as there are mixed results in users.[3] To be fair to Triple X, it's marketed primarily as an energy/motivation/mood enhancer with some pump enhancement as a secondary feature.

While this product isn't likely to deliver "earth shattering pumps" with this as the headline ingredient in that department, that also isn't the reason most people are going to be using it.

L-Citrulline Malate

L-Citrulline Malate is one of the stock pre-workout ingredients as it has a solid scientific resume when it comes to improving muscle endurance (by quickly clearing out the lactic acid that causes the "burning" sensation during exertion) and is also a significant pump enhancer. We do have some questions about whether the dosing is effective for pump purposes, but as with the arginine alpha ketoglutarate, pump here is a secondary minor benefit rather than the focus of the product.[4,5]

We like to see citrulline next to AAKG above, we just wish there was more citrulline!

Methylxanthine Anhydrous

Methylxanthines are a broad class of purines that stimulants are frequently derived from. So this could be one of any number of things, including theobromine or theophylline.[6]

However, we're nearly certain that this is simply caffeine. In their fat burner Infrared, they list the caffeine under its full scientific name (1,3,7 Trimethylxanthine) instead of simply calling it "caffeine anhydrous" like everyone else does. We really aren't sure what the marketing reasoning is behind this, but in all likelihood this is just some added caffeine for extra energy and focus. You should know what caffeine does for you - the question is, how much is in here?

2-Aminoisoheptane (Aconitum Kusnezoffii)

This is DMHA, the ingredient that really makes this product worthy of note. This is truly the ingredient why we're here!

Like predecessor DMAA, it's a very potent mood and energy enhancer that's tuned to get you in the ideal productive zone without pushing you too far or putting you at health risk. It's not subject to the legal issues that DMAA is (which could wind up being pulled from shelves pending the results of a court case later this year), and it has an easier "come-down" to boot.[7,8]

Just a quick word of warning -- while DMHA is not specifically banned by any agencies as of yet, professional athletes may nevertheless want to steer clear as it is close enough to other banned substances that it could throw up a false positive.

Beta-alanine

Beta alanine is key to carnosine production, which helps to clear out lactic acid in the muscles. The only question here is dosing. Clinical dosing is around three grams, and with it this far down the label, there's likely not nearly that much.[9]

This may be here just for a touch of the tingles or the label recognition, but we won't expect it to do a ton for focus at this dose.

Di-creatine Malate

Creatine is one of the best-researched supplement ingredients for enhancing performance when lifting. Di-creatine malate is a more bioavailable form.[10] The only issue here is the same as with beta-alanine -- with it this far down the label, we're not sure the dosing is actually at an effective level.
---
Our Gold Star Triple-X Review
Let's be clear here - this product is phenomenal for one reason and one reason only: the DMHA, on the label as 2-aminoisoheptane, but perhaps better named 2-amino-6-methylheptane.
The focus is downright phenomenal, but definitely not too overwhelming. You can use this for ridiculously long and strong weightlifting or cardio workouts but we've even used it when studying, writing, and programming - and it never fails. This stuff is the real deal!
While we still think that you need to get your 3-5g creatine and 3g of beta alanine in elsewhere in your day, this stimulant alone makes it well worth a try.
We see a lot of new products with this ingredient coming out, but Gold Star was the first company to really bring it to the market, so kudos to them and credit where credit is due.
---