Warning: This product is not currently available at any store.
Click the button above and PricePlow will email you when the first store has it in stock!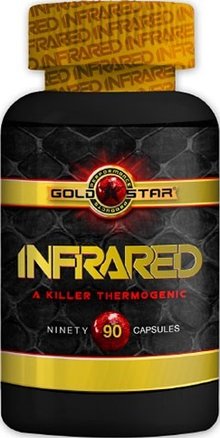 Gold Star Viper has been renamed to Infrared, but has the same fat burning formula! Before beginning, this product is all about 2-aminoisoheptane, or DMHA, which you can read about using the links.
The quick recap is that it's becoming the hot substitute for DMAA, which could possibly not be with us much longer pending the results of a legal case later this year. It's pretty much functionally the same as DMAA, just at about 90% the strength when dosed properly (~150-200mg orally is our guess).
This ingredient is the centerpiece of Infrared, Gold Star's fat burner. This is a mix of fairly standard ingredients for appetite suppression and thermogenesis/lipolysis stimulation wrapped around the DMHA, which is clearly meant to be the primary active ingredient, providing focus, euphoria, energy, and possibly appetite suppression (we're still testing that last one).
This is also a sister product of the pre workout supplement, Gold Star Triple X.
Gold Star Infrared Ingredients
Infrared comes in a proprietary blend of 665mg, which normally we would rather avoid since proper dosing of stimulants (especially new ones like DMHA / 2-aminoisoheptane) is very important. However, we can extrapolate enough information from the label that we're confident the safe high-end dose of 250mg has not been exceeded here.
N-Acetyl-L-Tyrosine

Commonly abbreviated as NALT, this is the superior form of L-Tyrosine for ingestion. As with DMHA, the primary purpose is to stimulate the production of dopamine and noradrenaline. Aside from being a mood and focus booster, this also gives you some appetite suppression by way of the elevated noradrenaline.[1,2]

Usually, we feel the focus from this ingredient though.

1,3,7 Trimethylxanthine

For whatever reason, GoldStar is listing caffeine under its fancy scientific name. This is sometimes a way for companies to try to make a label appear more exotic to the casual eye. We're really not sure why they did this, but it's plain old caffeine and nothing more.[3]

The real question is, how much, and we're sorry to say we can't answer that.

White Willow (15% Salicin)

There are several studies in which salicin paired with caffeine or ephedrine seemed to improve fat loss. The main study cited as evidence of this paired it with a potent cocktail of ephedrine, synephrine and caffeine, however, so we're still not sure if salicin really had much to do with the dramatic fat loss seen there. However, it is a potent anti-inflammatory and loaded with antioxidants, so it's at least not hurting anything.[4]

Here's the star of the show, DMHA. It's primarily a mood and energy enhancer, but one that doesn't present the dangers of the traditional amphetamine in animals. It's potent, but it doesn't stick around too long and damage the receptors that take noradrenaline and dopamine back up -- in other words, the process that usually causes drug addiction in illegal stimulants!

Anecdotal reports to date is that it also does not have the rough "crash-out" period as it wears off that DMAA or the larger doses of caffeine were sometimes known to.[5,6]

Due to the chemical similarity of it to other banned substances, however, at present we're recommending that drug-tested athletes steer clear of it to be on the safe side.

1-Hydroxypholedrine

This is another name for oxilofrine, which stimulates the production of noradrenaline. It should also be noted that this substance is on the list of stimulants prohibited by the World Anti-Doping Agency, another reason for tested athletes to avoid this product.[7]
---
Infrared Summary
Formerly known as Viper, Gold Star Infrared is a fat burner with one up-and-coming ingredient that we honestly love, and think that most others will love too.
Unfortunately, we don't know any of the doses of these key stimulants, so it's definitely best that you start at a light dose, and hopefully someday Gold Star Performance Products will unveil them. Until then, you can find the best deals on PricePlow.
---