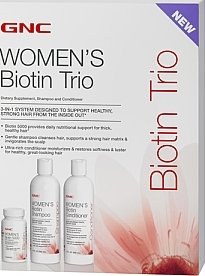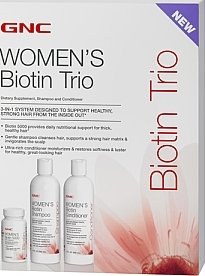 3-In-1 System Designed To Support Healthy, Strong Hair From The Inside Out
Biotin 5000 provides daily nutritional support for thick, healthy hair*
Gentle shampoo cleanses hair, supports a strong hair matrix & invigorates the scalp
Ultra-rich conditioner moisturizers & restores softness & luster for healthy, great-looking hair.
GNC Women's Biotin Trio is the 3-in-1 approach to healthy, great-looking hair! Biotin is a natural B-vitamin that helps support healthy hair from the matrix.* Deep penetrating Biotin Shampoo nourishes and cleanses hair with gentle cleansing agents combined with natural, herbal ingredients. Biotin Conditioner provides nutrients for texture and shine.* Biotin 5000 provides 5,000 mcg of hair matrix support. Use the components in GNC Women's Biotin Trio every day for healthy, clean hair from root to tip!
Biotin 5000 Biotin Shampoo
>
Biotin Conditioner