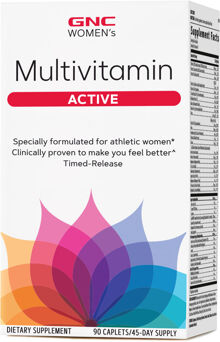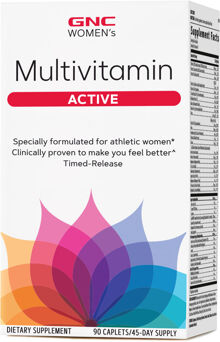 WHOLE FOOD ENHANCED VITAPAK PROGRAM FOR ACTIVE WOMEN
Green foods multivitamin with an advanced amino acid blend to fuel muscles & recovery*
Enhances workout performance & endurance with an energizing herbal blend*
Fuels energy & metabolism with clinically studied CLA*
Supports skin hydration & healthy hair, skin & nails with a specialized beauty blend*
GNC Ultra Mega Green Women's Active Vitapak Program offers a convenient, green foods enhanced nutritional program that combines essential vitamins and minerals with plant and whole food based ingredients to support the optimal health of active women. Emerging research suggests that including green foods based ingredients to support overall wellness. This nutrient-dense whole food enhanced multivitamin formula has been designed to supply energizing and beauty-enhancing nutrient for physically active women.
Ultra Mega Green Women's Multivitamin- A green foods multivitamin designed specifically for women. This formula provides a superior blend of vitamins and minerals combined with essential antioxidants, enzymes, and phytonutrients found in green foods to help women achieve optimal health. It also provides 1,600 IU of vitamin D-3 to support breast and bone health.* This premium multivitamin formula also includes a B vitamin complex to support energy production, as well as antioxidants for protection from harmful free radicals that can destroy healthy cells.*
Energy Formula- An energy and metabolism blend including cocoa seed extract, capsicum seed, black pepper extract and natural sources of caffeine. This herbal formula is designed to help boost energy metabolism, plus it helps support calorie burning and improved performance.*
CLA- A premium, concentrated form of clinically studied CLA to help fuel energy and fat metabolism.* CLA is a healthy source of natural energy.*
Beauty Blend- Provides a premium beauty blend to promote healthy hair, skin and nails and support skin hydration.* Includes key nutrients such as biotin, collagen, amino acids L-cysteine and L-methionine, and Lutemax 2020 lutein to nourish beauty from within*
* These statements have not been evaluated by the Food and Drug Administration. This product is not intended to diagnose, treat, cure, or prevent any disease.