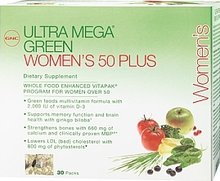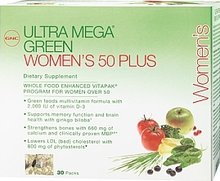 WHOLE FOOD ENHANCED VITAPAK PROGRAM FOR ALL WOMEN OVER 50
Green foods multivitamin formula with 2,000 IU of vitamin D-3
Supports memory function and brain health with ginkgo biloba*
Strengthens bones with 660 mg of calcium and clinically proven MBP*
Lowers LDL (bad) cholesterol with 800 mg of phytosterols*
GNC Ultra Mega Green Women's 50 Plus Vitapak Program is a convenient green foods enhanced nutritional program that combines essential vitamins and minerals with plant and whole food based ingredients to support the optimal health of older women. Emerging research suggests that including green foods based ingredients to support overall wellness. This nutrient-dense whole food enhanced multivitamin formula has been designed to supply nutrition essential to address the factors of aging.
Ultra Mega Green Women's 50 Plus Multivitamin- Our natural, nutrient-rich multivitamin blend with green food antioxidants, scientifically designed to support overall healthy aging and immune health. It contains 1,600 IU of vitamin D-3 to support breast and bone health, as well as natural blends to promote eye, heart and digestive health* It also features a natural beauty blend with collagen to support healthy hair, nails and skin.*
Standardized Ginkgo Biloba- A natural herb that helps support increased peripheral blood flow and mental sharpness. Each daily serving provides 120 mg of ginkgo biloba.
Calcium & Vitamin D with MBP- A premium bone formula featuring 600 mg of calcium, 400 IU of vitamin D-3 and 40 mg of clinically studied MBP. Calcium is an important structural component of bone that helps maintain a healthy bone matrix. Vitamin D enhances calcium absorption. Emerging research indicates that adequate daily vitamin D intake may play a role in supporting breast, bone and immune health. Additional research indicates that MBP supports the body's natural ability to build and maintain bone mass by supporting the body's bone building cells.*
CardioAid™ Phytosterols- Natural plant compounds found in fruits and vegetables that help block cholesterol absorption. Plant phytosterols are clinically shown to reduce cholesterol levels and may reduce the risk of heart disease. Scientific research shows that 400 mg per serving of free phytosterols taken twice a day with meals for a daily total of at least 800 mg, as part of a healthy diet low in saturated fat and cholesterol may reduce the risk of heart disease. Each daily serving supplies 800 mg of CardioAid™ phytosterols.
Omega Complex- A healthy blend of omega 3, 6 and 9 fatty acids per daily serving. This blend includes EPA and DHA, essential omega-3 fatty acids known to support brain and joint health.* Daily supplementation of omega-3 fatty acids also provide numerous heart-health benefits.* They help to maintain healthy cholesterol levels, are necessary in the maintenance of normal blood pressure and may reduce the risk of coronary heart disease.* Consumption of omega-3 fatty acids may reduce the risk of coronary heart disease. FDA evaluated the data and determined that, although there is scientific evidence supporting the claim, the evidence is not conclusive.