Warning: This product is not currently available at any store.
Click the button above and PricePlow will email you when the first store has it in stock!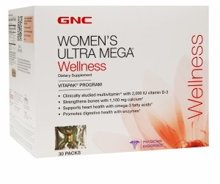 Vitapak Program for all women.
Clinically studied multivitamin with 2,000 IU of vitamin D-3
Strengthens bones with 1,100 mg of calcium*
Supports heart health with omega-3's*
Promotes digestive health with enzymes*
The Women's Ultra Mega Wellness Vitapak conveniently combines nutrients and special formulas to support a woman's daily nutritional needs including bone health, digestive support, cardiovascular health and mood.
Women's Ultra Mega without Iron and Iodine- The latest scientific research suggests that all adults can benefit from taking a multiple vitamin daily. Women's Ultra Mega is a premium formula that includes antioxidants, vitamins and mineral to supplement key nutrients missing in your daily diet. It also supplies fruit, carotenoid and vegetable blends that provide antioxidant protection from free radicals that can destroy healthy cells.*


Super Digestive Enzymes- Enhanced with N zimes, a proprietary blend of digestive enzymes, with proven bioactivity. N zimes are active in both acidic environments of the stomach and the alkaline environment of the small intestine. Lab tests show that N zimes work throughout the digestive tract, contributing to a more complete digestion of nutrients.* This superior formula helps promote protein, carbohydrate and fat digestion.*

Fish Oil- Fish oil provides heart healthy omega-3s, essential long chain of fatty acids that play an critical role in every day body functions . Each daily serving provides 300 mg of omega-3 fatty acids. The omega-3 fatty acids found in fish oil are necessary for heart, joint, skin and eye health.* They help maintain healthy cholesterol levels and are necessary in the maintenance of normal blood pressure.*
Calcium 600- Contains 400 IU of vitamin D-3 and 600 mg of calcium per serving.* These important bone-strengthening components are essential for bone health and teeth.*
Balanced Mood Support- Features an exclusive blend of herbs such as passion flower, rhodiola and Suntheanine L-theanine. L-theanine, naturally found in green tea, has been used since ancient times for its calming and relaxing benefits.*
The Women's Ultra Mega Wellness Vitapak Program provides 1,100 mg of calcium and 2,000 IU of vitamin D-3.
GNC QUALITY COMMITMENTS
GNC, the leader in the development and manufacture of dietary supplements, is committed to producing the highest quality products available. This commitment begins with quality designed supplement formulations. Every raw material that goes into a GNC supplement is guaranteed as to quality and potency. Each product is dated and then shipped immediately to our stores, so you can be sure you are purchasing the freshest supplements available. At GNC, we extend our quality commitment to you by offering our money-back guarantee.
GNC GUARENTEE
Use any GNC supplement for as little as 10 days, if you are not 100% completely satisfied, return the unused portion of the product with proof of purchase to your GNC store for a complete refund of your purchase price. No questions asked!
* These statements have not been evaluated by the Food and Drug Administration. This product is not intended to diagnose, treat, cure, or prevent any disease.