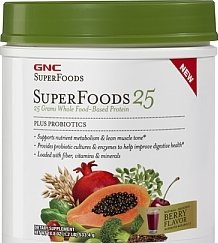 GNC SuperFoods 25 - Plus Probiotics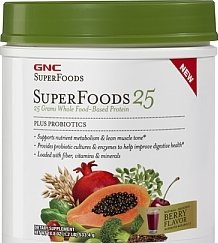 GNC SuperFoods 25 - Plus Probiotics
Supports nutrient metabolism & lean muscle tone*
Provides probiotic cultures & enzymes to help improve digestive health*
Loaded with fiber, vitamin & minerals
GNC SuperFoods 25 Plus Probiotics is a convenient, delicious way to support your metabolism, promote digestive health and support immune health!* This robust formula is loaded with a powerful blend of the best nutrient-and antioxidant- dense whole foods that nature can offer. Each serving provides an impressive full serving of wholesome fruits and vegetables along with 25 grams of plant-based protein, 12.5 billion active, "friendly" probiotic flora, natural dietary fiber and digestive enzymes from food sources. With an assortment of ingredients and essential nutrients derived from over 30 beneficial whole foods, SuperFoods 25 Plus Probiotics gives you a hearty helping of natural goodness in every easy-to-mix, great-tasting serving.
NATURAL PROTEIN BLEND
Contains 25g of protein derived protein-rich ingredients such as soy, brown rice and flaxseed. Protein supports metabolism and lean muscle tone.* Adequate amounts of dietary protein also supports satiety, helping you feel fuller longer.
ULTRA PROBIOTICS
Provides 12.5 billion CFU of Bacillus coagulans per serving to provide daily replenishment of healthy bacteria to help promote healthy digestion and support natural resistance.* Probiotics work to keep a healthy balance of intestinal flora by reducing the amount of harmful bacteria in the digestive tract and replenishing beneficial, "friendly" bacteria.
NATURAL DIGESTIVE ENZYME BLEND
Features 50mg of digestive enzymes from natural sources including bromelain from pineapples and papain from papaya to help improve digestion of protein, fat, and carbohydrates.
SUPER GREENS BLEND
Includes 2g of nutrient-dense garden and sea greens including alfalfa, spinach, and kelp.
EXOTIC SUPER FRUITS BLEND
Delivers 4g of antioxidant-rich super fruits including acai, papaya, and pomegranate.
Based upon air-dried fruits and vegetables.