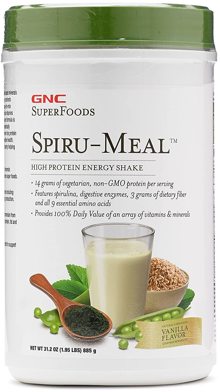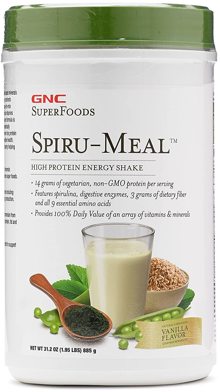 Spiru-MealHIGH PROTEIN ENERGY SHAKE
14 grams of vegetarian, non-GMO protein per serving
Features spirulina, digestive enzymes, 3 grams of dietary fiber and all 9 essential amino acids.
Provides 100% Daily Value of an array of vitamins & minerals
GNC SuperFoods Spiru-Meal delivers a robust blend of vitamins and minerals typically found in wholesome super foods, protein and other key nutrients necessary for maintaining optimal health and wellness. Each easy-to-mix servings contains spirulina and bee pollen, which provide beneficial vitamins and minerals to support optimal nutrition and health. This premium formula is also loaded with 14 grams of protein derived from non-GMO (genetically modified organism), vegetarian sources such as soy protein, brown rice protein and pea protein, as well as food-based enzymes to support digestive health. Great-tasting, nutrient-dense SuperFoods Spiru-Meal offers a hearty helping of natural goodness in every delicious, easy-to-mix serving.
ESSENTIAL VITAMINS & MINERALS
Provides 100% Daily Value of an array of essential vitamins and minerals typically responsible for the health benefits to the most wholesome super foods.
NATURAL PROTEIN BLEND
Contains 14g of protein derived from non-GNO, vegetarian sources including soy protein, brown rice protein and pea protein to support energy production.
NATURAL DIGESTIVE ENZYME BLEND
Features digestive enzymes including papain from papaya and bromelain from pineapple, plus lipase and cellulose to help improve digestion of protein, fat and carbohydrates.
DIETARY FIBER
Includes 3g of dietary fiber from oat bran, cellulose and apple pectin to support digestive health.