Warning: This product is not currently available at any store.
Click the button above and PricePlow will email you when the first store has it in stock!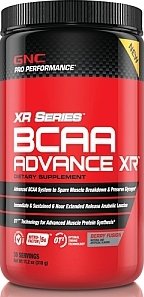 GNC Series BCAA Advance XR
XR Series BCAA Advance XR
Advanced BCAA System to Spare Muscle Breakdown & Preserve Glycogen*
Immediate & Sustained 6 Hour Extended Release Anabolic Leucine
OT2 Technology for Advanced Muscle Protein Synthesis*
THE BENEFITS OF BCAA Advance XR
GNC's superior Pro Performance XR Series BCAA Advance XR is uniquely formulated to help athletes receive immediate release of muscle fueling Branched Chain Amino Acids (BCAA), plus a longer lasting supply of anabolic Leucine. Leucine is the key BCAA shown to impact muscle protein synthesis.* This anabolic bulking block is now Optimal Timing Technology - OT2 - enhanced to provide a sustained release of Leucine for six hours.
OT2 - THE EXCLUSIVE GNC ADVANTAGE
OT2 is GNC's intelligent nutrient delivery system engineered to help release key ingredients during crucial times when you need them most! These breakthrough products are designed to deliver immediate and sustained release of ingredients to help maintain benefits throughout your workout, day or night. OT2 ingredients are coated with a special technology that controls when they are released.
These special actives may be seen in the product- now that's a real technology you can see and feel! It goes without stating that protein is critical for stimulating muscle synthesis and preserving muscle glycogen stores. Leucine, a key branched chain amino acid, is one of the primary nutrients in protein responsible for these benefits. With the introduction of the unique, sustained-release technology, now muscle fueling leucine is released for up to six hours!
NITRO-FACTOR - MAXIMIZE MUSCLE BUILDING
The full muscle building potential of a GNC product is based on its total nitrogen content- so the more nitrogen a product has, the stronger it will perform. Nitrogen needs increase during training, and if nitrogen levels are low, your body pulls from muscle stores which can result in catabolism, poor performance and longer recovery. To fuel performance and anabolism, Pro Performance XR Series BCAA Advance XR is loaded with 5 grams of nitrogen-boosting ingredients.
Notice: Significant product settling may occur.
* These statements have not been evaluated by the Food and Drug Administration. This product is not intended to diagnose, treat, cure, or prevent any disease.