Quick Links to Best Prices Price History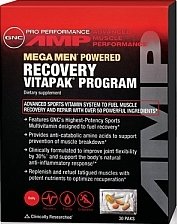 GNC Recovery Vitapak Program
ADVANCED SPORTS VITAMIN SYSTEM TO FUEL MUSCLE RECOVERY AND REPAIR WITH OVER 50 POWERFUL INGREDIENTS
Features GNC's Highest-Potency Sports Multivitamin designed to fuel recovery
Provides anti-catabolic amino acids to support prevention of muscle breakdown
Clinically formulated to improve joint flexibility by 30% and support the body's natural anti-inflammatory response.
Replenish and refuel fatigued muscles with potent nutrients to optimize recuperation
What is Pro Performance AMP Recovery Vitapak Program?
Athletes today push their bodies to extremes to achieve maximum results in athleticism, speed, muscle performance and physical potential. Their ability to exhaust their bodies with powerful physical training regimens goes further than just how they perform any given workout. An overlooked key to their physical prowess is the ability to recover from the intense strain on their bodies and capacity to rebuild muscles that have been put through a rigorous thrashing. GNC Scientists have created the breakthrough Pro Performance AMP Recovery Vitapak Program. This incomparable, dominant program combines daily premium sports nutrients and clinically studied ingredients to rebuild muscle and fuel an athlete's recovery.
What is Pro Performance AMP Recovery Vitapak Program?
With the breakthrough Pro Performance AMP Recovery Vitapak Program athletes can power through training fearless of repercussions and after-effects. This elite, advanced program provides your body with highly absorbable, clinically studied ingredients for recovery plus potent herbal ingredients proven to provide fast joint comfort and flexibility.
Mega Men Sport - This high-potency clinically studied sports multivitamin formula includes critical components to fill important nutrient gaps in regular supplementation programs. Mega men Sport contains B-vitamins that are important for energy production and carbohydrate metabolism. It provides amino acids, including BCAA, to support lean muscle and a healthy metabolism It also features a broad spectrum of cell-protecting antioxidants and nutrients that aid in boosting immunity.
L-Glutamine - Provides an anti-catabolic effect and supports your muscle recovery from every workout, every day with L-Glutamine, which is a preferential amino acid for use in skeletal muscle and helps with muscle hydration and to maximize muscle function during and after exercise.
Joint Comport Formula - This fast-acting formula is anchored with a clinically studied blend of hers shown to improve joint flexibility by 30% and joint function by 19.4%. In addition, it offers powerful antioxidant properties and supports a healthy response to inflammation. The Joint Comfort Formula also includes Red Orange Complex – a clinically studied antioxidant defense for athletes.
Triple Strength Fish Oil - As an athlete with intense workouts every day, your cardiovascular and joint health are key to keeping you t your best. Fish oil provides EPA and DHA which support cardiovascular and joint health, as well the body's natural anti-inflammatory response. Fish Oil provides 900 mg of Omega-3 fatty acids EPA and DHA to promote joint health while supporting the body's natural anti-inflammatory response.
Muscle Function Formula - Combining BCAA and Zinc Magnesium Aspartate gives athletes a unique element that will replenish key amino acids and minerals. BCAA are essential amino acids that are part of muscle protein that help to preserve muscle glycogen stores and help to reduce the amount of protein breakdown. Exercise may result in a loss of essential vitamins and minerals.