Warning: This product is not currently available at any store.
Click the button above and PricePlow will email you when the first store has it in stock!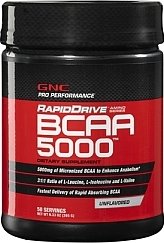 Dietary Supplement
5000mg of Micronized BCAA to Enhance Anabolism
3:1:1 Ratio of L-Leucine, L-Isoleucine and L-Valine
Fastest Delivery of Rapid Absorbing BCAA
Properformance RapidDrive BCAA 5000 features our most advanced RapidDrive Amino Acid Technology. These Branched Chain Amino Acids (BCAA) have been pulverized, or "micronized," from large molecules into smaller particles that are easier to absorb and deliver fast fuel for powerful performance. Now you can fully power your muscles to new levels for optimum performance.
BCAA-leucine, isoleucine and valine- are critically important for stimulating muscle protein synthesis, reducing protein breakdown and preserving mucle glycogen stores. The body uses these essential amino acids as fuel during exercise.
Using Pro Performance RapidDrive BCAA 5000 can help maintain and rapidly replenish BCAA stores. Each serving supplies 5000mg of pure BCAA and mixes easily in any beverage or sports drink.
GNC's Product Development Scientists were challenged to create an advanced delivery form of amino acid supplements, a critical sports nutrition component that can be used in the regimen of top athletes. The result of these research efforts led to the creation of the RapidDrive Amino Series, a core group of superior and fast-absorbing amino acids for rapid muscle fueling results. This unique technology is much more advanced compared to regular amino acids. Because our team is dedicated to continually improving sports nutrition products, the Pro Performance RapidDrive Amino Series helps you, the athletes, get fast fuel for your muscles.