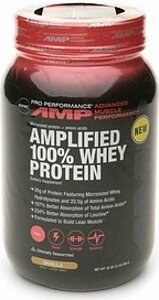 GNC Pro Performance AMP Amplified Recovery Protein XR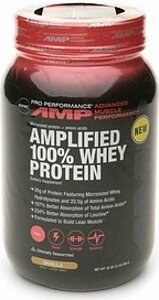 GNC Pro Performance AMP Amplified Recovery Protein XR
Post-workout muscle support
Provides 25g of Fast and Slow Release Proteins + 7g of Leucine
142% Faster Absorption of BCAA for Muscle Fuel
Amino Acceleration System + 18g of Waxy Maize to Support Recovery
What is Amplified Recovery Protein XR?
The protein that you have always wanted, but just didn't know it…until now! Amplified Recovery Protein XR, the ultimate in Xtended Release formulas, is the ideal post-workout blend packed with both fast and slow proteins you need to optimally fuel and support muscle repair after every intense training session. Suitable for every athlete, the distinct protein composition targets two key actions of muscular activity: anabolism and recovery. Whether it's weight training or aerobic endurance, strenuous workouts cause damage to muscle tissue, so what you need is a protein that will help set the stage for quality repair and support for your muscles, and here it is! A dual action, extended release energy source that combines a fast-acting blend of technology-enhanced whey protein with slower-acting quality casein for long lasting muscle fuel. The unique form of whey protein is proven to deliver key amino acids into your blood better and faster than ordinary whey protein. With this faster-absorbing protein, you also get 142% faster absorption of BCAA into the blood stream, which can be taken up by your skeletal muscle where they may help preserve glycogen stores and reduce protein breakdown. Micronized protein and aminos are the solution to immediate fuel source that lasts up to a few hours, but the muscle refueling doesn't stop there. Then, waxy maize is used for rapid glycogen store replenishment, a critical muscle recovery component. Lastly, casein is included to provide a slow-digesting, sustained supply of amino acids over 7 hours that can help to significantly decrease protein breakdown. This crucial 25 gram whey and casein combination with 18 grams of waxy maize is designed to keep your muscles out of a catabolic state while continually delivering amino acids necessary to fuel muscles. Get full muscle coverage with Amplified Recovery Protein XR - the protein and carb formula with the right balance to support muscle recovery and anabolism immediately after workouts, even hours later.
The Amplified Recovery Protein XR Evolution
AMPlified to support and enhance metabolic phases of muscle activity and here's how: using cutting-edge technology and scientific research and expertise, this unique formulation was designed to be the ultimate protein for recovery support.
Micronized Protein and Amino Acids –
This premium protein blend features micronized whey protein and leucine! Using MicroSorb Amino Technology, whey protein and amino acids in this formula have been pulverized into smaller particles that are easier to absorb. As a result, Amplified Recovery Protein XR is proven to deliver superior amino acid uptake compared to regular whey. That means more amino acids are available for your muscles to use as fuel! These vital amino acids all support proteins involved in muscle building, recovery and other processes crucial to your muscles.
Waxy Maize – Serves as a carbohydrate source to replace glycogen stores during the recovery process, helping to make sure that energy is ready and available to burn for your next intense workout.
Casein – This slow digesting protein increases blood amino acids at a much slower and steadier rate giving you the most favorable environment for proper repair of your muscles over a longer time frame.
* These statements have not been evaluated by the Food and Drug Administration. This product is not intended to diagnose, treat, cure, or prevent any disease.