Quick Links to Best Prices Price History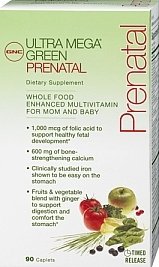 WHOLE FOOD ENHANCED MULTIVITAMIN FOR MOM AND BABY
1,000 mcg of folic acid to support healthy fetal development
600 mg of bone-strengthening calcium
Clinically studied iron shown to be easy on the stomach
Fruits & vegetable blend with ginger to support digestion and comfort the stomach
GNC ULTRA MEGA GREEN PRENATAL
GNC Ultra Mega Green Prenatal is a premium whole food enhanced multivitamin for pregnant and nursing women that combines essential nutrients with whole food ingredients. Pregnancy is a special time in a woman's life. Not only do you need to meet your individual nutritional needs, but you must meet the nutritional needs of your baby as well. Maternal nutrition before and during pregnancy affects both your well-being and your infant's growth. As your baby develops through the early phases of life, your nutritional needs will also increase. After delivery, you need an adequate diet rich in essential nutrients to support nursing and replace depleted nutrient stores. This delicately blended multivitamin offers supplemental nutritional support for both you and your baby before, during and after pregnancy.
Nutritional Support
Supplies a balanced nutritional blend combining vitamins and minerals with 350 mg of a new premium fruit and vegetable blend for antioxidant support to supplement a healthy diet. Emerging research suggests that including green foods as part of a healthy nutritional plan can have a variety of health-enhancing effects and can help support overall wellness. This nutrient-dense multivitamin formula containing blends made with whole foods also includes ginger and peppermint, traditionally used to soothe the stomach and support digestion.
Folic Acid
Provides 1,000 mcg of folic acid, critical during the earliest weeks of pregnancy when a baby's organs are forming. Adequate intake of folic acid in a healthy diet before and in early pregnancy may reduce the risk of birth defects of the brain and spinal cord.
Calcium & Bone Health
Features 600 mg of bone-strengthening calcium which is vital during pregnancy, especially during the third trimester when fetal bones begin to calcify. If a mother's calcium level drops, her body can pull calcium from her bones resulting in loss of bone density. Also includes 400 IU of vitamin D-3 to enhance calcium absorption.
Gentlesorb Iron
Contains 18 mg of clinically studied Gentlesorb Iron shown to be gentle on the stomach. Iron is necessary to support placental and fetal needs and a mother's increased blood volume.
* These statements have not been evaluated by the Food and Drug Administration. This product is not intended to diagnose, treat, cure, or prevent any disease.