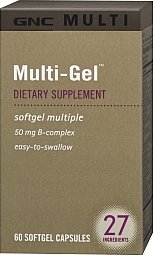 GNC Multi-Gel Multivitamin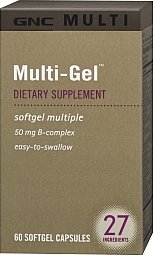 GNC Multi-Gel Multivitamin
Multi-Gel is a high potency, easy to swallow soft gel capsule multiple vitamin and mineral formula.
Multi-Gel contains 27 important ingredients that provide daily nutritional support:
Vitamin A is essential for normal vision.*

Folic Acid and vitamins B-6 and B-12 may play a role in the maintenance of normal homocysteine levels.* B-vitamins are also essential for carbohydrate metabolism and energy production.*

Powerful antioxidant blend with beta-carotene, vitamins C, E and Selenium.Vitamin D, is necessary for healthy teeth and bones.*Vitamin E helps maintain the proper function of the cardiovascular system.*
* These statements have not been evaluated by the Food and Drug Administration. This product is not intended to diagnose, treat, cure, or prevent any disease.