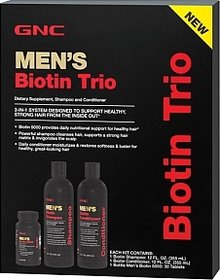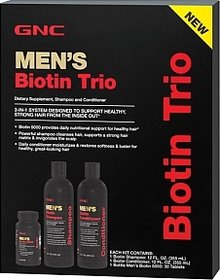 HELPS NOURISH THICK, HEALTHY HAIR
Infused with Biotin & other essential B vitamins to support & nourish your hair.Invigorates & awakens the scalp with peppermint oil.
Harnesses the power of aloe, jojoba & tea tree oil to gently cleanse & rejuvenate your hair.
GNC Men's Biotin Shampoo is professionally formulated for all hair types. This premium shampoo is enriched with biotin that nourishes hair and supports the hair matrix while providing other essential B vitamins that promote healthy hair. Formulated with aloe, jojoba, tea tree oil and peppermint oil, these invigorating herbs gently clean your hair while leaving your scalp feeling rejuvenated. Your hair will feel healthy, clean, soft and nourished from root to tip. Use with GNC Men's Biotin Conditioner and GNC Biotin 5000 for complete daily hair care.
* These statements have not been evaluated by the Food and Drug Administration. This product is not intended to diagnose, treat, cure, or prevent any disease.