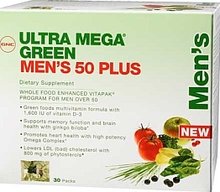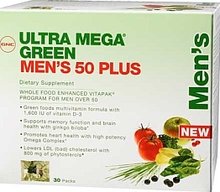 WHOLE FOOD ENHANCED VITAPAK PROGRAM FOR MEN OVER 50
Green foods multivitamin formula with 1,6000 IU of vitamin D-3
Supports memory function and brain health with ginkgo biloba
Promotes heart health with high potency Omega Complex
May reduce the risk of heart disease with 800 mg of Phytosterols
GNC ULTRA MEGA GREEN MEN'S 50 PLUS VITAPAK PROGRAM
GNC Ultra Mega Green Men's 50 Plus Vitapak Program is a convenient green foods enhanced nutritional program that combines essential vitamins and minerals with plant and whole food based ingredients to support the optimal health of mature adults. Emerging research suggests that including green foods as part of a healthy nutritional plan can have a variety of health-enhancing effects and can help support overall wellness. The nutrient-dense whole food enhanced multivitamin formula has been designed to supply nutrition essential to support healthy aging.
Ultra Mega Green Men's 50 Plus Multivitamin- A green foods multivitamin designed specifically for mature adults featuring a superior blend of vitamins, minerals and natural nutrients to support a variety of men's health needs. This formula contains blends of antioxidants and natural nutrients to support heart and digestive health and promote overall immune functions, a well as a prostate health blend including lycopene, saw palmetto and selenium to support healthy prostate function. It also contains 1,600 IU of vitamin D-3 to support colon and bone health. Emerging research suggests that adequate daily vitamin D intake may play role in supporting colon health.
Standardized Ginkgo-Biloba- A natural herb that helps support increased peripheral blood flow and mental sharpness. Each daily serving provides 120 mg of ginkgo biloba.
Omega complex- A healthy blend of omega 3, 6 and 9 fatty acids per daily serving. This blend includes EPA and DHA, essential omega-3 fatty acids known to support brain and joint health. Daily supplementation of omega-3 fatty acids also provides numerous heart-health benefits. They help to maintain healthy cholesterol levels and are necessary in the maintenance of normal blood pressure. Consumption of omega-3 fatty acids may reduce the risk of coronary heart disease. The FDA evaluated the data and determined that, although there is scientific evidence support the claim, the evidence is not conclusive.
Phytosterols- Natural plant compounds found in fruits and vegetables that help block cholesterol absorption. Plant Phytosterols support healthy cholesterol levels. Scientific research shows that 400 mg per serving of free Phytosterols taken twice a day with meals for a daily total of at least 800 mg, as part of a healthy diet low in saturated fat and cholesterol, may reduce the risk of heart disease. Each daily serving supplies 800 mg of Phytosterols.
Standardized Saw Palmetto- A natural herb that supports health prostate function and normal urinary flow. Each daily serving provides 160 mg of saw palmetto berries extract.
GNC QUALITY COMMITMENT
For more than 75 years, GNC has been the leader in the developments and manufacture of dietary supplements and is committed to producing the most superior products. We use only the highest quality ingredients manufactured under the strictest quality controls. Every raw material used is tested to ensure its purity and potency. Each product is dated and then shipped immediately to our stores to ensure that you are purchasing the freshest supplements available.
GNC GUARANTEE
If you are not 100% completely satisfied, return the unused portion of the product with your receipt to a GNC store within 30 days. Our trained sales staff will either refund your purchase price or, if you prefer, assist you in finding a replacement product to help you LIVE WELL.