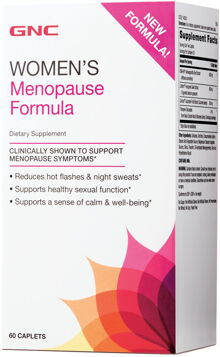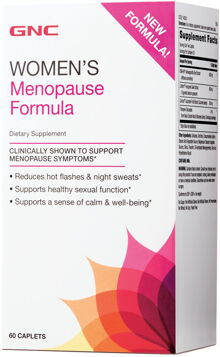 Clinically studied menopause support*
Provides key nutrients to support hormone levels & healthy metabolism*
Improve bone density & maximizes calcium absorption*
Preventive Nutrition Menopause Support Formula contains clinically studied ingredients, additional key nutrients and a lifestyle program to support women experiencing the common symptoms of menopause.* This comprehensive formula helps support a wide spectrum of menopausal concerns such as hot flashes, night sweats, mood swings, bone density loss, forgetfulness and decreased arousal.
Hormone Balance Blend-
Combines a potent blend that includes Sophora japonica fruit extract, which has been clinically studied for its role in menopause support, with traditional black cohosh and hops standardized to provide additional support.* This formula also features ultra-concentrated GLA, a prostaglandin precursor essential in the regulation of hormone balance, as well as the circulatory, nervous and immune systems.*
Strong Bone & Circulatory Support Complex-
In addition to the well-known benefits of vitamin D in supporting calcium absorption and bone health, this formula also contains MBP, a unique, clinically efficacious active protein complex that supports woman's biological ability to build and maintain healthy bone mass.* In addition, it features 120 mg of high quality Ginkgo biloba which may help to improve memory function and increase peripheral blood flow for improved cardiovascular health.*
Energy and Metabolism Management Matrix-
Key vitamins and minerals including chromium and iodine were each carefully selected to work cooperatively with a woman's body assisting in cellular energy production and other molecular activities such as the metabolism of dietary carbohydrate, fat and protein.* Glucose utilization, lipid profile balance, red blood cell production and DNA repair all require adequate levels of the essential nutrients found in the Menopause Support Formula.*
GNC Preventive Nutrition products have been scientifically developed utilizing the expertise of the GNC Medical Advisory Board. Each premium formula designed to be used in conjunction with your physician recommended healthcare regimen. This line of products is precisely formulated to provide clinical strength ingredients and additional nutrients that address key health concerns.