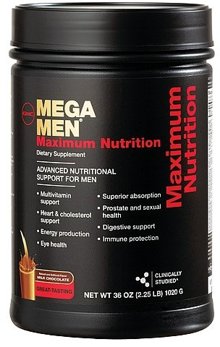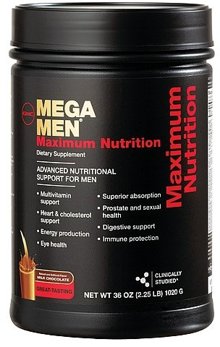 ADVANCED NUTRITIONAL SUPPORT FOR MEN AND WOMEN
Green foods multivitamin and mineral formula.
Contain 7 premium superfood based blends.
Supports heart health with 2 grams of omega fatty acids.*
Provides 1,600 IU of vitamin D-2 for enhanced calcium absorption.
Promotes healthy digestion with 5 grams of dietary fiber.*
Fuels energy production with B-vitamins.*
Ultra Mega Green Maximum NutritionUltra Mega Green Maximum Nutrition is more than just a multivitamin. It's a delicious, convenient combination of essential nutrients and green foods scientifically designed to help you achieve optimal health. Emerging research suggests that including green foods as part of a healthy nutritional plan can have a variety of health-enhancing effects and can help support overall wellness.* Ultra Mega Green Maximum Nutrition features the same vitamins, minerals, and plant and whole food based ingredients found in our nutrient-dense Ultra Mega Green multivitamin, plus additional benefits such as 8 grams of protein, 5 grams of fiber, 2 gram blend of safflower, sunflower and borage oils, which are sources of omega fatty acids and more. This convenient, whole food enhanced multivitamin formula mixes easily with water for superior absorption, supplying nutrition for even the most demanding schedules.
Ultra Mega Green Multivitamin with Superfood Blends
A superior blend of vitamins, minerals, whole foods, antioxidants, enzymes and phytonutrients found in green foods to help you achieve optimal health.
Provides 7 nutrient-rich superfood based blends supplying key nutrients found in wholesome fruits, vegetables and green foods.
Heart and Cholesterol Support
Contains 2 gram blend of oils that are natural sources of omega fatty acids. This omega fatty acid blend supplies borage oil, a natural source of GLA, which provides support for normal, healthy cardiovascular function.*
Combines vitamins B-6, B-12 and folic acid that may play a role in maintenance of normal homocysteine levels, important for cardiovascular health.*
Bone, Breast & Colon Health
Delivers 1,600 IU of vitamin D-2 which enhances calcium absorption and helps maintain healthy bones.* Emerging research suggest that adequate daily vitamin D intake may also play a role in supporting breast and colon health.*
Digestion Support
Includes 5 grams of dietary fiber. Fiber serves as a bulking agent and encourages colon health by helping to speed food through the digestive system.* Fiber also plays an important role in cleansing.*
Enhanced with an important blend of digestive enzymes. Help to ease digestion, release vital nutrients and support healthy digestive function.*
Energy Production
Supplies B-vitamins that are essential for carbohydrate metabolism and energy production.*
Contains key minerals such as zinc and chromium that are involved in carbohydrate metabolism and glucose utilization.*
Immune Protection
Contains vitamin C and zinc to boost your body's natural immune response.*
Enhanced with nutrients that provide antioxidant support such as vitamins C and E, selenium and green tea leaf extract. Antioxidants offer protection from harmful free radicals that can destroy healthy cells and promote the cell-aging process.*
* These statements have not been evaluated by the Food and Drug Administration. This product is not intended to diagnose, treat, cure, or prevent any disease.