Warning: This product is not currently available at any store.
Click the button above and PricePlow will email you when the first store has it in stock!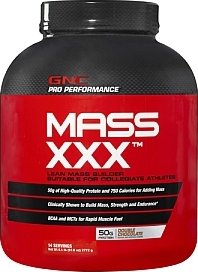 Lean Mass Builder Suitable for collegiate Athletes
50g of High-Quality Protein and 750 Calories for Adding Mass
Clinically Shown to Build Mass, Strength and Endurance
BCAA and MCTs for Rapid Muscle Fuel.
THE BENEFITS OF MASS XXX
GNC Pro Performance Mass XXX is GNC's first clinically studied mass builder: scientific research has shown this formula increases lean mass, muscular strength and endurance with less work in the gym. GNC Pro Performance Mass XXX is the right mass building formula to help fuel your muscles with critical nutrition they need and to help you drive towards your goal of gaining mass and muscle strength.
Getting the precise amount of calories your muscles need, including a balance of quality protein, carbohydrates, essential amino acids and micro nutrients, is critical for driving rapid results. that's why GNC Pro Performance Mass XXX is powered by a mega-dose of 50g of high-qaulity protein, which gives your muscles the amino acids they need to maximize your potential. GNC Pro Performance Mass XXX supplies the conditionally essential amino acid Arginine to help fuel nitric oxide production to fuel vascularity, pumps and nutrient delivery. This formula is also powered with essential BCAA (branched chain amino acids) isoleucine, leucine and valine to protect against muscle breakdown and to fuel protein synthesis.
GNC Pro Performance Mass XXX fuels energy with added MCTs (medium chain triglycerides) which are quickly absorbed. More energy is critical to help you fuel the type of training you need to build maximum size and strength. What's more, this formula is powered by a unique blend of carbohydrates, including a complex carbohydrate component (maltodextrin and fiber) for sustained energy.Mix a serving of GNC pro Performance Mass XXX in 2% milk and you get 66g or quality protein for your muscles, 147g of carbohydrates to give you the energy you need and 990 mass building calories for rapid results! The combination of protein, carbs and fat found only in GNC Pro Performance Mass XXX helps to provide the extra calories you need to put on the added pounds that you want!Typical Natural Occuring Amino Acids per 50 Grams of Protein:
Alanine 2151mg
Arginine 1673mg
Aspartic Acid 5048mg
Cystine 993mg
Glutamine 8877mg
Glycine 1068mg
Histidine 1113mg
Isoleucine 2892mg
Leucine 4968mg
Lysine 4106mg
Methionine 1058mg
Phenylalanine 1960mg
Proline 3099mg
Serine 2549mg
Threonine 2877mg
Tryptophan 937mg
Tyrosine 1733mg
Valine 2898mg
TOTAL 50000mg