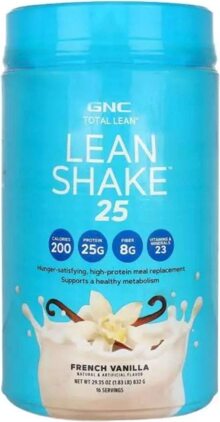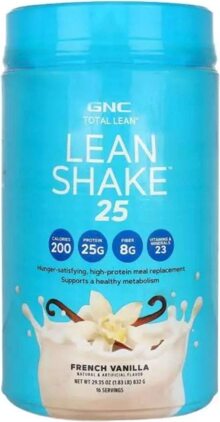 Great-Tasting Muscle Meal

40 Grams of High-Quality Protein
Only 260 Calories with only 2 grams of sugar
8 Grams of Fiber
26 Essential Vitamins & Minerals
GNC Pro Performance Lean Muscle Meal is a superior meal replacement formula scientifically designed to support lean muscle mass and fuel muscle cells. This scientifically formulated meal replacement combines a unique blend of whey, egg and milk proteins and other important ingredients such as a complex vitamin and mineral blend, important carbohydrates, fiber, and a blend of healthy fatty acids.
Protein and Amino Acids
GNC Pro Performance Lean Muscle Meal features 40 grams of a proprietary protein blend consisting of milk, egg and whey proteins. These proteins are composed of important amino acids that are required for the synthesis of protein, maintenance of nitrogen balance and for fueling skeletal muscles.
Carbohydrates
This formula supplies 18 grams of carbohydrates, the body's primary source of energy. Carbohydrates are an important fuel during intense or high intensity exercise. Carbohydrates also replenish energy stores after high intensity exercise. Furthermore, the combination of dietary protein with carbohydrates following resistance exercise supports muscle protein synthesis.
High Fiber Source
Experts agree that adults should consume 25 to 35 grams of fiber every day to maintain good health. Fiber increases your feeling of fullness helping you to delay hunger, thus making you feel full longer. Each serving provides 8 grams of dietary fiber.
Essential Vitamin and Mineral Blend

Each serving provides a balance of 26 essential vitamins and minerals essential for maintaining good health. Essential Fatty Acids Features a blend of essential fatty acids including CLA, healthy unsaturated fats, medium chain triglycerides (MCTs) which are quickly absorbed for energy, and no trans fats.
* These statements have not been evaluated by the Food and Drug Administration. This product is not intended to diagnose, treat, cure, or prevent any disease.