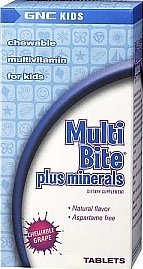 GNC Kid's MultiBite plus minerals Multivitamin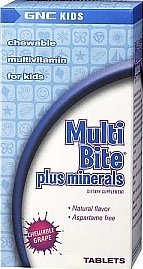 GNC Kid's MultiBite plus minerals Multivitamin
MultiBite plus minerals is a multivitamin and mineral formula for children.
Includes 20 essential vitamins and minerals to help safeguard the nutritional needs of your growing, active child.
MultiBite plus minerals nutritional benefits include:

Vitamin A which is essential for eye health and normal vision.*

B-vitamins that are essential for carbohydrate metabolism and energy production.*

Vitamin C helps to protect the body against free radical damage, supports natural resistance and is essential in iron absorption.*

Vitamin E provides antioxidant support.*

Bone-strengthening nutrients including calcium and magnesium with vitamins C and D that are essential in the development of healthy bones and teeth.*
Iron
that is involved in energy utilization and plays a vital role in the formation of healthy red blood cells.*
Choline
and
Inositol
that play a central role in cell function and growth.*
Great-tasting grape tablets do not contain any aspartame and are free from artificial flavors and colors.
* These statements have not been evaluated by the Food and Drug Administration. This product is not intended to diagnose, treat, cure, or prevent any disease.