Warning: This product is not currently available at any store.
Click the button above and PricePlow will email you when the first store has it in stock!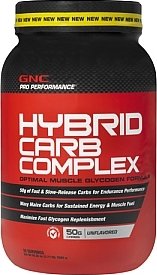 Optimal Muscle Glycogen Formula
50g of Fast & Slow-Release Carbs for Endurance Performance
Waxy Maize Carbs for Sustained Energy & Muscle Fuel
Maximize Fast Glycogen Replenishment
The Benefits of Hybrid Carb Complex
Pro Performance Hybrid Carb Complex delivers a combination of fast and sustained release carbohydrates. This optimal blend combines simple and complex carbohydrates designed to maximize potential for glycogen synthesis by providing glucose to the muscles. Featuring Dextrose for a fast release of carbohydrates to immediately enter the bloodstream and deliver this key nutrient to the muscle, and Waxy Maize to slowly release into the bloodstream to provide extended availability of muscle fuel. Pro Performance Hybrid Carb Complex is ideal for Athletes, Bodybuilders or anyone looking for better results in the gym, delivering key nutrients needed before, during, or after workouts.
Contrary to common perception, carbohydrates are in fact a very valuable source of nutrients, acting as the body's primary energy source and should be included in any athlete's program. Carbohydrates are vital in adding quality calories to achieve mass gains and increased energy levels for intense workouts. When consumed at ideal times, carbohydrates can play a valuable role in balancing the macronutrient profile of an athlete to be prepared for optimal performance in the gym or on the field.
Pro Performance Hybrid Carb Complex is perfect for stacking with your current GNC supplement regimen to achieve maximum results based on your fitness goals.