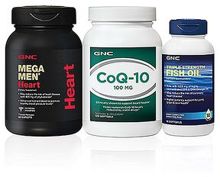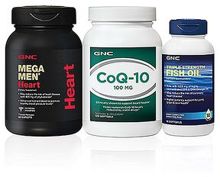 VITAPAK® PROGRAM FOR WOMEN OVER 50
Clinically studied multivitamin^ with 1,600 IU of vitamin D-3
Lowers LDL (bad) cholesterol with phytosterols
Helps maintain normal, healthy blood pressure levels*
Supports blood vessel function and healthy lipid profile with CoQ-10 and niacin*
WOMEN'S ULTRA MEGA® HEART
GNC Women's Ultra Mega® Heart Vitapak® Program conveniently combines nutrients that support a woman's overall nutritional needs with focused ingredients to promote heart health and that may reduce the risk of heart disease.
Women's Ultra Mega® without Iron and Iodine – Our premium timed-release, clinically studied formula includes vitamins and minerals to supplement key nutrients that may be missing in your daily diet. Women's Ultra Mega® contains 1,600 IU of vitamin D-3 for breast and bone health and immune support, as well as, B-vitamins that are important for cardiovascular health and energy production.* It's enhanced with 500 mg of bone-strengthening calcium; a hair, skin and nails blend; and features a broad spectrum of cell-protecting antioxidant nutrients that also support immune health.*
CardioAid™ Phytosterols – Natural compounds found in fruits, vegetables and whole grains that help block cholesterol absorption.* Phytosterols are clinically shown to reduce cholesterol levels and may reduce the risk of heart disease. Each daily serving provides the clinically studied dose of 800 mg of CardioAid™ Phytosterols.
MegaNatural®-BP™ – Clinically shown to help maintain normal, healthy blood pressure levels already within the normal range. MegaNatural®-BP™ is a superior form of grape seed extract that contains compounds to support a healthy heart.*
Double Strength Fish Oil – Features 600 mg of omega-3 fatty acids, 360 mg of EPA and 240 mg of DHA. The omega-3 fatty acids found in fish oil are necessary for heart, joint and eye health.* They help maintain healthy cholesterol levels and are necessary in the maintenance of normal blood pressure.*
Coenzyme Q-10 - A heart healthy antioxidant that supports heart and blood vessel function.* Levels diminish with age and when taking certain medications.
Niacinamide- Provides dietary support for a healthy blood lipid profile and plays an important function in energy metabolism.*
Scientific research shows that 400 mg per serving of free phytosterols taken twice a day with meals for a daily total of at least 800 mg, as part of a healthy diet low in saturated fat and cholesterol may reduce the risk of heart disease. Each daily serving supplies 800 mg of CardioAid™ phytosterols.
In a randomized, double-blind, placebo-controlled study of 112 healthy volunteers, subjects taking the GNC vitamin and mineral blend in this product for six weeks experienced statistically significant improvements in markers of B vitamin and antioxidant status, as well as improvements in SF-36 Vitality and Mental Health scores compared to those taking a placebo.