Quick Links to Best Prices Price History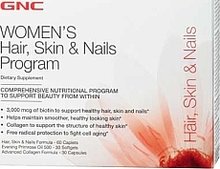 GNC Hair, Skin, & Nails Program
Comprehensive nutritional program to support beauty from within
3000 mcg of biotin
Skin hydration
Collagen support
Free radical protection
Hair, Skin & Nails Formula - 60 Caplets
Evening Primrose Oil 500 - 20 Softgels
Advanced Collagen Formula - 30 Capsules
HAIR, SKIN & NAILS PROGRAM
GNC Hair, Skin & Nails Program is a comprehensive daily nutritional program that combines our most advanced formulas to support beauty from the inside out. Adequate intake of essential nutrients such as biotin, lutein, and amino acids, along with important antioxidants, help support beautiful hair, skin and nails.
Hair, Skin & Nails Formula - A specialized formula featuring nutrients that support normal cell growth in the hair, skin and nails matrix. It provides 3,000 mcg of biotin, an essential vitamin known to promote beautiful hair, skin and nails. This formula also features advanced antioxidants including vitamins A and C, alpha-Lipoic acid and green tea which help protect against damaging free radicals that can promote the cell-aging process. Also includes lutein, an important antioxidant which helps support skin hydration. This formula combines gelatin with important amino acids for strong, healthy nails.
Evening Primrose Oil - A natural source of GLA, an omega-6 fatty acid that helps maintain smooth, healthy-looking skin. GLA also supports hormonal balance.
Advanced Collagen Formula - A sophisticated blend of Type 1 collagen and specific amino acids found in hair, skin and nails. Amino acids are essential building blocks of protein, which is needed for the growth and repair of tissue.