Warning: This product is not currently available at any store.
Click the button above and PricePlow will email you when the first store has it in stock!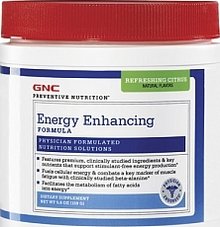 GNC Energy Enhanced Formula
Features premium, clinically studied ingredients & key nutrients that support stimulant-free energy production.*
Fuels cellular energy & combats a key marker of muscle fatigue with a clinically studied beta-alanine.*
Facilitates the metabolism of fatty acids into energy.*
Preventive Nutrition Energy Enhanced Formula contains clinically studied ingredients, additional key nutrients and a lifestyle program designed to support energy production.* This multi-action stimulant free formula is designed to fuel cellular energy, maximize blood flow and promote metabolism function.
Vitamin Support
- Essential for energy production from B-vitamins, including niacin and methylcobalamin, the body's active form of B-12.* Vitamin B-6 and B-12 function in macronutrient and energy metabolism and are involved in red blood cell synthesis, which provides key component to cells for energy production.* Also provides vitamin C to help protect cells from the damaging effects of free radicals.*
Energy Optimizer
- Features premium ingredients that help fuel cells and promote energy production.* Creatine helps muscles make and circulate ATP.* Beta-alanine is clinically shown to increase levels of carnosine, a key factor in controlling muscle fatigue.* Glutamine supports protein synthesis and plays an important role in muscle cell hydration.* Carnitine is essential for transforming fatty acids to energy and helps fuel muscles.* CoQ-10 is a powerful antioxidant that is involved in a cellular energy process.*
Blood Flow Support
- Contains L-arginine, an important amino acid that supports the production of nitric oxide, which helps maintain blood vessel tone and fuel muscle cells.* Also contains MegaNatural- BP that supports healthy blood circulation and blood pressure levels.*
Antioxidant Support
- Includes powerful nutrients that enhance metabolism function and provide antioxidant that supports against free radicals.* Glutathione is a potent antioxidant that supports the activity of antioxidants vitamins C and E and also supports normal immune system function.
* These statements have not been evaluated by the Food and Drug Administration. This product is not intended to diagnose, treat, cure, or prevent any disease.