Warning: This product is not currently available at any store.
Click the button above and PricePlow will email you when the first store has it in stock!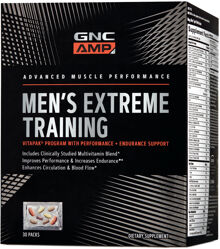 GNC Endurance Vitapak Program
Due to California state law label requirements, this product ships to California onlyFor more products that meet California state law label requirements, Click here
ADVANCED SPORTS VITAMIN SYSTEM TO AMPLIFY ENDURANCE WITH
OVER 50
POWERFUL INGREDIENTS
Features GNC's Highest-Potency Sports Multivitamin to Fuel Endurance Training
Supports Enhanced Blood Flow and Oxygen Uptake to Increase Intensity 20% at the Onset of Fatigue
Ignites Mental and Physical Intensity to Help Power Through Training
With 451 mg of Pure Standardized Yohimbe Bark Extract for Maximized Benefits
What is Pro Performance&reg AMP Endurance Vitapak&reg Program?
The power to endure intense physical training and extreme cardiovascular sessions requires absolute fine-tuning of your sports nutrition regimen to enable the body to perform at peak levels. The most perfectly trained athletes know that you must have an effective, targeted and balanced nutrition regimen to achieve maximum training benefits. GNC Scientists have created the breakthrough Pro Performance&reg AMP Endurance Vitapak&reg Program. The unparalleled power of over 50 premium, athletic-boosting ingredients combine together to amplify physical and mental intensity, delivering a total performance boosts of 20%. This powerful combination of a daily premium multivitamin, sports nutrients and clinically studied ingredients delivers the edge athletes want to perform.
The Pro Performance&reg AMP Endurance Vitapak&reg Program Evolution
Driving this elite performance breakthrough is a mechanism that supports enhanced blood flow and oxygen uptake at the most critical time during training - at the onset of fatigue. Using an unmatched clinically proven module, it unleashes a 20% boost in workout intensity. Most athletes today are not combining the proper combinations and ratios of critical sports nutrition. This system, used by elite runners, cyclists and other hardcore athletes, delivers precisely what muscles need to fuel difficult training, help your body recover and prepare to do it again. This exclusive nutrient system amplifies total muscle performance, increases intensity at the onset of fatigue, fuels cardio training, improves performance and ramps up energy production.
Mega Men&reg Sport - This high-potency clinically studied sports multivitamin formula includes critical components to fill important nutrient gaps in regular supplementation programs. Mega Men&reg Sport contains B-vitamins that are important for energy production and carbohydrate metabolism. It provides amino acids, including BCAA, and a joint cushioning blend for healthy joint cartilage. Also features a broad spectrum of cell-protecting antioxidants and nutrients that aid in boosting immunity.
Energy Enhancer N.O. - This advanced nitric oxide product provides 1.5 g of micronized arginine and is included to help increase your power output at the onset of fatigue 20%. It's clinically studied and designed to enhance blood flow and amplify your intense workouts. Technologically enhanced for better absorption to maximize muscle performance capacity and give your body the push it needs to go above and beyond your regular workouts.
Thermo Igniter 12x - Push your performance to higher levels, increase energy and speed up metabolism. This clinically proven, proprietary thermogenic blend has been shown to help you burn 12 times more calories and increase your metabolism before, during and after exercise. In addition, just one capsule supports improved endurance and performance to help your body work longer and harder than ever before.
Yohimbe 451 - Features 451 mg of pure standardized yohimbe bark extract for maximized benefits.
* These statements have not been evaluated by the Food and Drug Administration. This product is not intended to diagnose, treat, cure, or prevent any disease.