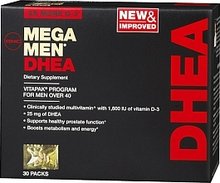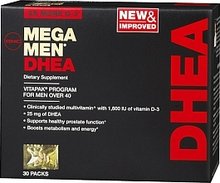 High potency, no iron multivitamin clinically proven to increase vitality*
Features 25 mg of DHEA to support health & wellness*
Enhanced energy formula to boost metabolism*
Specialized saw palmetto formula to promote prostate health*
GNC Mega Men DHEA Vitapak Program is physician endorsed by Frank J. Costa, M.D., an internationally acclaimed urological surgeon, men's health expert, and a member of the GNC Medical Advisory Board.
"Mega Men DHEA Vitapak Program includes premium ingredients to provide high potency nutritional support for men over 40. It suppies 25 mg of DHEA which is necessary to support optimal health, saw palmetto for prostate health, a clinically proven multivitamin and a prowerful energy enhancer. I highly recommend this product for men over 40 who are seeking a total nutritional support program." – Frank J. Costa, M.D.
Why Should I Use Mega Men DHEA Vitapak Program?
Mega Men DHEA Vitapak Program is a complete nutritional plan that provides men over 40 with a convenient way to achieve their daily nutritional goals in one convenient pak. The components of this program- GNC's clinically proven Mega Men multivitamin, DHEA, metabolism enhancing Energy Formula and Saw Palmetto Formula- are specially formulated to provide high potency support and enhance energy.*
How Can Mega Men DHEA Vitapak Program Benefit Me?
As you age your body changes and DHEA naturally declines, Mega Men DHEA Vitapak Program supports DHEA and other premium ingredients for total nutritional support.*
How Does Mega Men DHEA Vitapak Program Work?
Each serving of Mega Men DHEA Vitapak Program includes the following components to help you achieve your daily nutritional goals:
Mega Men - This clinically studied, powerful no iron multivitamin supports overall health and wellness. It includes a potent complex of B-vitamins which are essential for metabolism support and energy production.*
DHEA 25 - DHEA (Dehydroepiandrosterone) is one of the most abundant hormones produced in the body and is a precursor to other hormones. DHEA 25 can help support your DHEA levels, which decline as the body matures.*
Energy Formula - This metabolism enhancing formula combines standardized guarana with panax ginseng, rhodiola and yerba mate boost energy levels and support mental alertness.*
Saw Palmetto Formula – This formula blends lycopene and saw palmetto to help support prostate health and normal, healthy urinary flow.* Also contains zinc which is required for normal reproductive function.*
* These statements have not been evaluated by the Food and Drug Administration. This product is not intended to diagnose, treat, cure, or prevent any disease.